Hello traders, today we want to update our USDJPY chart from June 29 (CLICK HERE) after we spotted an ending diagonal (wedge) pattern within 5th wave.
The reason why they are so interesting is because they are indicating a reversal, usually a strong one.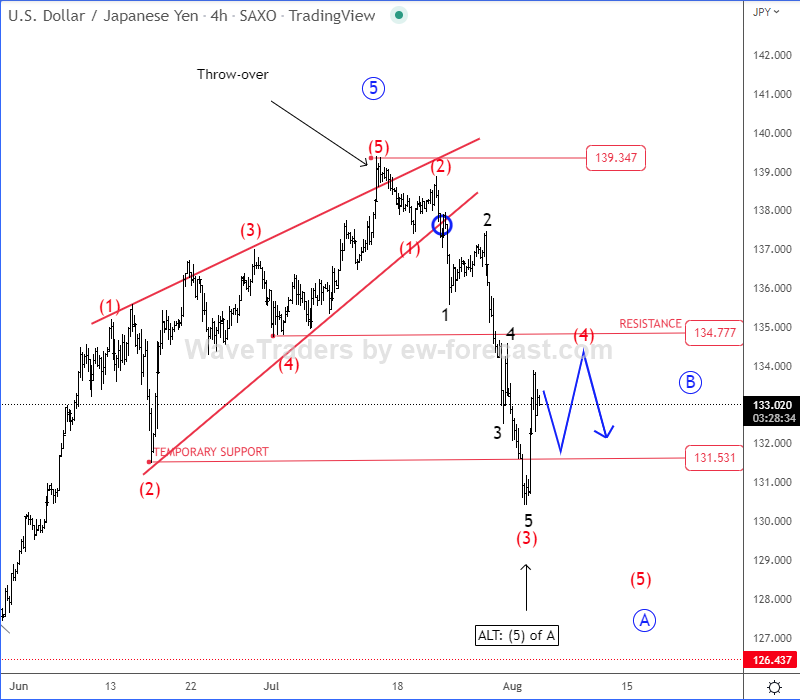 As you can see, USDJPY turned sharply and impulsively down after a throw-over into wave (5) of 5 of that wedge pattern. So, seems like 5th wave is completed and it's now turning bearish at least in three waves A-B-C. It can now actually send the price even back down to 126 area, we just have to be aware of temporary corrective pullbacks.
Currently it can be still unfolding a five-wave bearish cycle within first leg A. So, after current pullback in wave (4) of A, watch out for more weakness within wave (5) of A. Even if wave A is already competed, we should still be aware of more downside pressure for wave C after a corrective recovery in wave B. So, in both cases it looks like USDJPY can face deeper decline, so be aware of limited rise and be aware of a bearish continuation.
Trade smart!
Silver can be bottoming. Check our chart HERE