Hello traders, today we will talk about USDJPY and its interesting development from technical point of view and from Elliott Wave perspective.
USDJPY is trading bullish and keeps moving higher, but with slow price action and overlapped wave structure here at the highs. It actually indicates for an ending diagonal (wedge) pattern that can limit the gains for the 5th wave.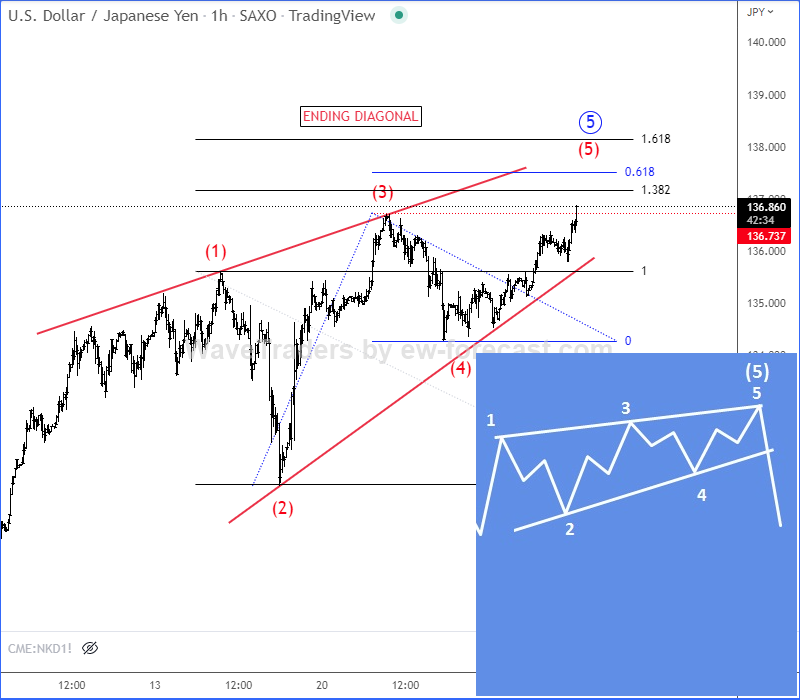 The ending diagonal is a special type of wave that occurs in wave 5 of an impulse, or wave C/Y of a correction. This wave often occurs when the preceding move of the trend has gone too far, too fast and has run out of steam. An ending diagonal pattern is a type of pattern that can occur at the completion of a strong move. It reflects a "calming" of the market sentiment such that price still moves generally in the direction of the larger move, but not strongly enough to produce an impulsive wave. Ending diagonals consist of five waves, labeled 1-2-3-4-5, where each wave subdivides into three legs. Waves 1 and 4 overlap in price, while wave 3 can not be the shortest amongst waves 1, 3 and 5. The reason why they are so interesting is because they are indicating a reversal, usually a strong one.
From technical point of view, we see room up to important Fibonacci cluster target area and upper ending diagonal line that can stop around 137-138 area. So, be aware of limited upside and watch out for a reversal down into a new higher degree corrective decline soon.

Trade well!
Small caps Russell2000 is nearing strong support. Check our chart HERE