Elon Musk said yesterday that Twitter users who have created fictitious profiles impersonating other users without labeling them as "parodies" will be permanently banned from the said social networking platform without warning.
In a separate post on Twitter, Musk said that in the past, the platform would issue a warning before suspending a profile, but as Twitter evolves a broad user verification process, there will be no such warning. Also, there will be no "exceptions". This will be a condition for signing up for Twitter Blue, adding that any name change would cause the user to lose their identity verification token. They will not be allowed back on Twitter until the said social networking platform has "a clear process for doing so".
Organizing such a process will take at least a few weeks, clarifying the timing of the possible return of Twitter's most famous user, former President Donald Trump, who has been banned. The new timeline suggests Trump won't be back before midterm congressional elections on November 08.
Twitter had a huge drop in revenue due to activist groups pressuring advertisers, even though nothing changed in terms of content moderation and everything was done to appease activists.
Musk's fortune has shrunk by about 35%, to $209.4 billion since its peak on Nov. 4, 2021, from $320.3 billion, and the almost-sole reason for this decline is the decline in Tesla stock. Over the past year, Musk has sold $31 billion worth of Tesla stock to finance his takeover of Twitter and take it private. Since the deal has not been finalized, Forbes calculates the value of the cash (minus taxes) earned from these sales at their net worth. But the row over the Musk-Twitter deal has alienated investors, who believe Musk will pay an exorbitant amount to acquire the social networking platform and that he is recklessly selling Tesla stock to finance the deal.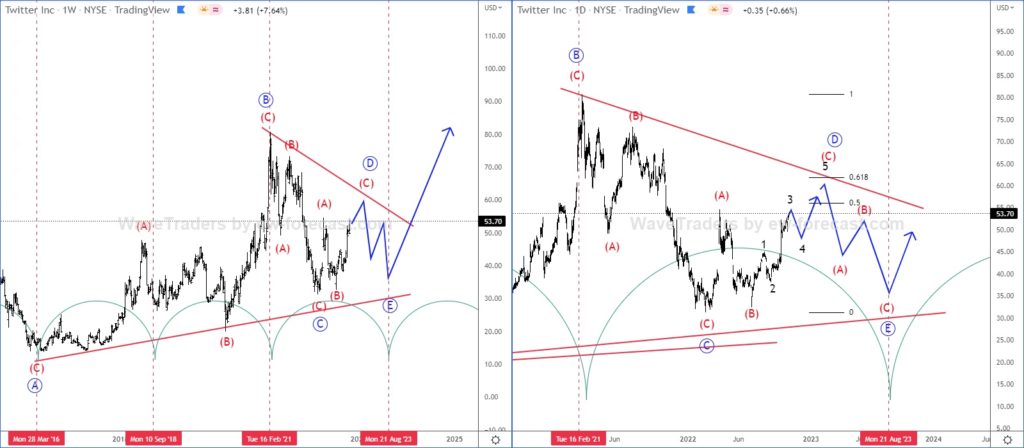 From Elliott wave perspective, on the weekly chart we see Twitter trading in big bullish sideways running triangle pattern that can take some time before we will see a bullish break-out, as final wave E can be still missing. On a daily chart we are tracking a three-wave (A)-(B)-(C) rally within wave D that can find the resistance around 60 level and from where we should be aware of another slow down within wave E that can retest 40-30 support zone before it takes-off.
Check also our new macro report for the week ahead. CLICK HERE
Important
The stock was delisted from the NYSE after, according to a securities filing, because a private company does not meet SEC disclosure requirements, only accredited and institutional investors can freely trade its stock. Individual investors cannot buy shares of a private company's stock. However, in some cases you can invest in funds that track this part of the market and can buy shares of private equity firms that do invest in private companies.