At 4.75-5% the maximum interest rate with the Fed has no direction
Markets and investors worldwide were confused by the "takes a lot" of Federal Reserve Chairman Jay Powell's speech following the Federal Open Market Committee's (FOMC) policy announcement, in which interest rates were raised by 75 basis points, in the range of 3.75% – 4%, according to the American bank Goldman Sachs.
The FOMC signaled a slower rate hike starting in December, but Powell forecast a higher-than-expected 2023 peak. In particular, American policymakers sent a strong signal that they are likely to slow down the rate of interest rate increases, to 50 basis points in December.
In his press conference, Chairman Powell said that a slowdown is likely to be the appropriate solution because the level of interest rates is now much higher, the cumulative tightening is significant and the size and timing of its effect on the economy are uncertain. None of these points will change until the December meeting. Powell said he "never thought" about stopping the rate hike.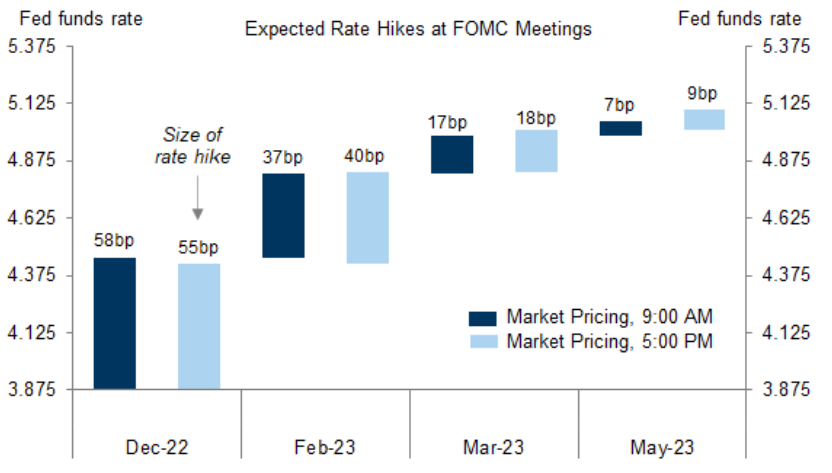 Although a slowdown to 50 basis points in December now looks likely, the Fed chairman left some uncertainty about what comes next, saying a slowdown could come "as soon as the next meeting or the one after that."
He also noted that while the plan is to end the current cycle of hikes at a "fairly restrictive" level, there is "significant uncertainty" about the funds' rate level. Finally, Powell noted that FOMC participants will record new funds rate forecasts in December and likely update them based on incoming data. As a result, the bond market discounted somewhat higher odds of a 50 bp rise, rather than a 75 bp rise in December, but also further tightening in 2023.
Markets on the other hand experienced ups and downs, before and after the FED's chairman speech last Wednesday, so on a weekly basis, S&P 500 lost -3,25%, Dow Jones Industrial Average -1,83%, Nasdaq Composite -5,97%, whereas DAX40 gained +1,63%.
The Economic Calendar of the week (7/11 – 11/11) has very interesting readings, such as German Industrial Production for September, Eurozone Retail Sales for September, US Crude Oil Inventories weekly based, US Core CPI for October, U.S Initial Jobless Claims (weekly released), US Federal Budget Balance for October, UK Business Investments for Q3, UK GDP for Q3, UK Manufacturing Production for September, German CPI for October, Eurozone Economic Forecasts, US Michigan Consumer Sentiment for November, including the speaking of Mrs. Lagarde and Mr. Powel and many of the officials.
by Stavros Chanidis
Interested in commodities? Wheat hasn't topped yet. Check our article HERE