In the ''red'' the liquidity of the markets according to IMF
Liquidity is at the lowest levels in recent years in quite a few market sectors, according to an analysis by the International Monetary Fund (IMF), as cheap money (ss: low or even negative interest rates) has ended amid unprecedented monetary tightening.
In the "Chart of the Week" by Fabio Cortes, Glenn Gottselig, Shoko Ikarashi, and Aki Yokoyama, the liquidity chart appear to be… "red". Liquidity is a key measure of how well financial markets are working. It refers to how easily assets can be bought or sold—and when it goes down, it can be disruptive. After more than a decade of abundant liquidity and relative calm in markets, the central bank's rate hikes to curb inflation has been accompanied by increased market volatility.
As the Weekly Chart shows, measures of market liquidity have worsened across asset classes, especially in recent weeks, as increased uncertainty about the economic outlook and monetary policy has left investors with much less appetite for risk.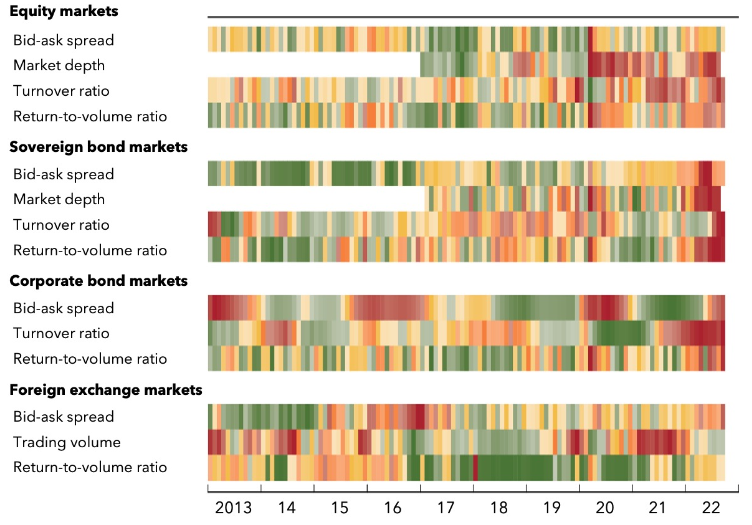 This may pose risks to financial stability. This was recently highlighted by the pressure on the UK government bond market, which required the Bank of England to intervene. This episode showed how sudden price movements combined with forced selling and deleveraging can lead to disorderly conditions in asset markets, which could threaten broader market functioning and stability. Spillovers from disorderly asset markets could also raise borrowing costs for governments and companies, worsening economic conditions.
Despite the ECB's decision for another hike of 75 bp on interest rate last Thursday, on a weekly basis, the rally continued with S&P 500 gaining +3,95%, Dow Jones Industrial Average +5,83%, Nasdaq Composite +2,09, and DAX40 +4,03%.
The Economic Calendar of the week (24/10 – 28/10) has very interesting readings, such as German Retail Sales for September, Eurozone CPI for October, US M2 Money Supply, OPEC Meeting, US ISM Manufacturing PMI for October, US Job Openings for September, German Trade Balance for September, German Manufacturing PMI for September, German Unemployment Change for October, Eurozone Manufacturing PMI for October, US Crude Oil Inventories weekly based, US Nonfarm Employment Change for October, FED Interest Rate Decision, UK Interest Rate Decision, Eurozone Unemployment Rate, U.S Initial Jobless Claims (weekly released), US Trade Balance for September, German Factory Orders for October, German Services PMI for October, including the speaking of Mrs. Lagarde and Mr. Powel.
by Stavros Chanidis
Interested in Forex? Cable might have bottomed. Check our article HERE