"The Fed is ready to shock the markets"
According to JP Morgan, the Federal Reserve is expected to raise interest rates by 100 basis points in total; specifically by 50 basis points in December, 25bp in February, and another 25bp in March 2023. In other words, until the beginning of spring, as reported by the American bank, the maximum interest rate will reach 500 bp, i.e.  5%.
As can be seen, financial conditions tend, based on this scenario, to tighten dangerously, sacrificing growth and jobs on the altar of taming inflationary pressures. And as the late Rudiger Dornbusch is quoted as saying, no postwar expansion died of old age, because they were all killed by the Fed, except, of course, the postmodern recessions of '01 and '08 that were more associated with price bubbles of assets despite aggressive Fed actions, while we also had the brief (but severe) COVID-19 recession, which is hard to blame the Fed for. In any case, despite warnings, most postwar expansions were indeed killed by Fed tightening. And the Fed is currently tightening as fast as ever.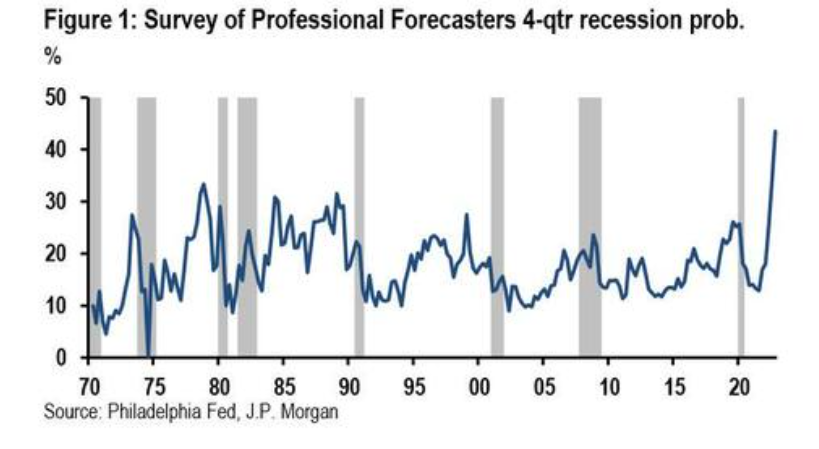 For this reason, JP Morgan believes that FED will increase by 100 bp before going into hibernation next spring. So, it makes sense that analysts are more convinced than ever that there will be a recession next year.
Why not a soft landing, as Mr. Powel is considering? Because it would be nice to think that the US Federal Reserve could gently raise the unemployment rate by 0.5-1.0% to restore balance in the labor market, but the cyclical behavior of the unemployment rate exhibits both asymmetries and non-linearities and resembles when goes down with the escalator and up with the elevator. Therefore, a demand slowdown is expected, eventually leading to labor market weakness. In this context, it is going to be lost more than 1M jobs by the middle of '24. It is also believed that this labor market weakness will convince the Fed that it has built up enough deflationary momentum to start easing its policy towards a more neutral stance.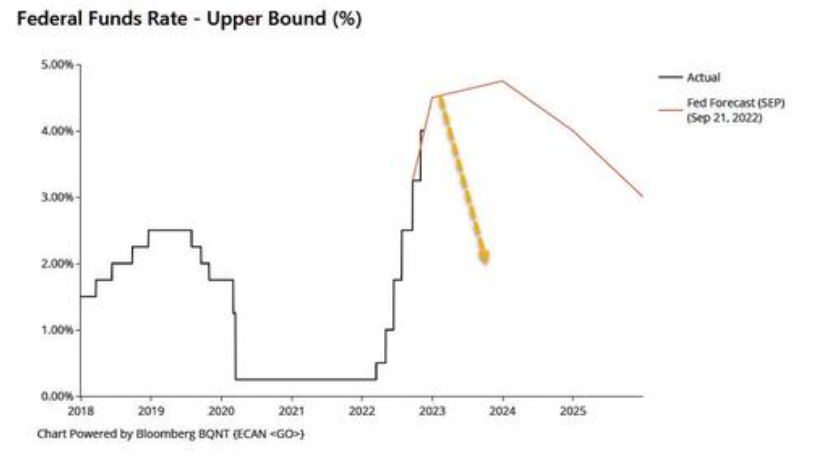 Markets on a weekly basis had a mixed picture where S&P 500 lost -0,69%, Dow Jones Industrial Average lost -0,01%, Nasdaq Composite lost -1,18%, and DAX40 in Europe gained +1,46%.
The Economic Calendar of the week (21/11 – 25/11) has very interesting readings, such as German PPI for October, Japan core CPI, Eurozone Current Account for September, Eurozone Consumer Confidence for November, US API Crude Oil Stocks (weekly based), US Manufacturing PMI, German Manufacturing PMI, UK Manufacturing PMI, and Eurozone Manufacturing PMI for November, Eurozone Services PMI, German Ifo Business Climate Index for November, German GDP for Q3, US Building Permits for October, US Crude Oil Inventories weekly based, U.S Initial Jobless Claims (weekly released), including the speaking of Mrs. Lagarde and Mr. Powel and many of the officials.
by Stavros Chanidis
Check our latest article about Barclays. CLICK HERE