Goldman Sachs downgraded its forecast for oil, citing growing concerns about the coronavirus in China and a lack of clarity over the G7 plan to curb Russian oil prices. Specifically, the target price was lowered by $10 to $100 for Q4 2022.
The market is right to be concerned about future fundamentals, given the significant Covid cases in China and the lack of clarity on the implementation of the G7 oil price ceiling. More lockdowns in China would be equivalent to the large production cuts imposed by OPEC+ of 2 million barrels per day. China reported three deaths from the Covid virus over the weekend, the country's first deaths from the virus since May this year. It is recalled that Beijing has tightened measures on the coronavirus in the past three days, as the local number of cases has risen to several hundred per day.
Economists added that the prospect of more shutdowns in the world's top oil importer would dampen demand even more than that. The expectation for China's demand is 1.2 million bpd for the quarter (to 14.0 million bpd), anticipating further lockdowns going forward with current Chinese crude demand to be short of Goldman's expectations for October-November by 800,000 bpd. Also contributing to Goldman's downward revision were higher-than-expected oil production and export volumes from Russia, just two weeks before the EU embargo took effect in early December. Investors were disappointed by higher-than-expected output and export flows from Russia. This is despite just two weeks to go before the EU crude embargo comes into effect alongside the G7 price cap, on which further details will be announced next week.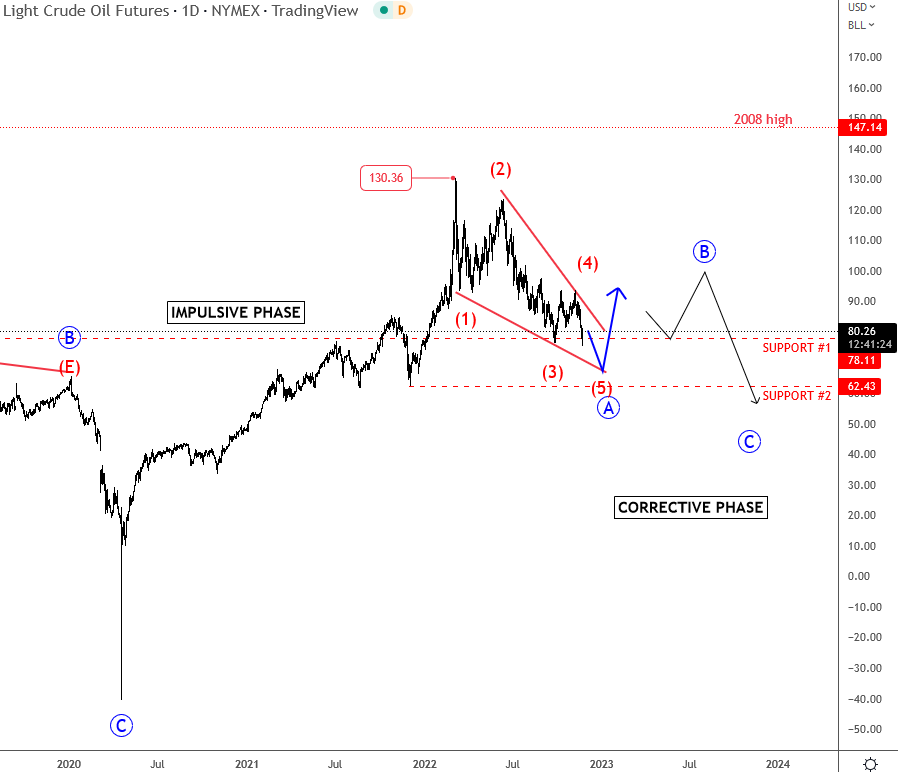 From an Elliott wave perspective, Crude oil can be trading in a higher degree A-B-C correction, but wave B corrective recovery can be around the corner, if we consider a leading diagonal into wave A from the highs. So technically speaking, Crude oil can even drop down to 70-60-50 support area for wave C, but ideally after a corrective rally in wave B that can retest 100 resistance area.
Interested in cryptocurrencies? KuCoin is finishing a complex correction. Check the chart HERE