According to Reuters, the Economists at Barclays downgraded their forecasts for global economic growth in 2023 as inflation is unlikely to fall sharply, forcing monetary policy to be "tight". Also warned that 2023 looks set to be one of the weakest in four decades, with advanced economies likely headed into a recession. They now forecast global growth of 1.7% year-on-year, compared with September's forecast of 2.2%.
They also noted that the advanced economies are expected to contract throughout 2023, with recessions in the UK and the Eurozone starting in the third and fourth quarters of 2022 respectively.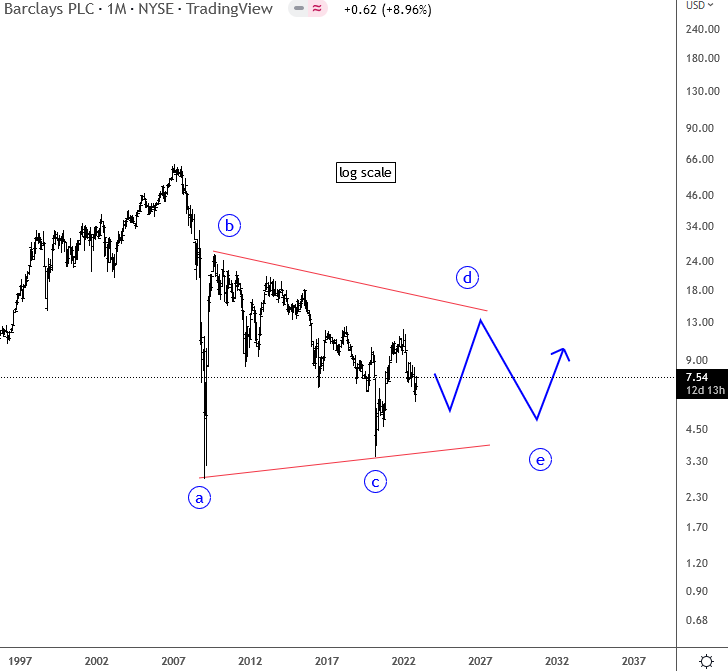 Barclays is listed on the London Stock Exchange and NYSE. From an Elliott wave perspective, it can be forming a big monthly bullish a-b-c-d-e triangle pattern that can take some time, maybe years before we will see a bullish breakout. So, seems like we will most likely see it trading sideways between 20 and 5 area until triangle fully unfolds. Once a triangle is fully completed and the price starts breaking above 30, then we can expect a bullish resumption and rally towards all-time highs.
by Stavros Chanidis
Check also our latest analysis about UK FTSE100 Index. CLICK HERE