RICS, which is the international body of chartered valuers, in its October survey observed reduced prices in the UK housing market in the majority. The survey includes data since 1978 and it showed a decline for the largest number of properties. While a house price correction is widely expected as part of the ongoing recession, it appears to be unfolding faster than expected. While the sudden halt in house price growth is a big surprise, it's not a mystery. Housing loan funding tightened significantly in October as financial institutions reacted strongly to the dramatic rise in interest rates and expectations for the path of the Bank of England's bank rate following the fiscal fiasco at the end of September.
Although the situation in the UK financial markets has completely reversed after the government was overthrown and former Prime Minister Liz Truss resigned, the reaction to mortgage pricing has been delayed. It remained high throughout October. While mortgage rates have fallen from a peak of around 6.5% (as a five-year fixed rate) to around 5.6%, they are still restrictive.
Meanwhile, housing demand collapsed in October after mortgage rates rose. Home loan applications from new buyers fell to -54.5% from -36.3% in September. And while the demand balance has remained well above the all-time low of -95.9% in April 2020 during the first coronavirus lockdown, it is heading very quickly toward the global financial crisis nadir of -67.3% in April 2008.
In response to the decline in demand, price expectations are also falling sharply. The fall to -49.1% in October from -34.2% in September is in line with house prices, which fell by 7% over 12 months.
However, we expect demand to moderate further over the winter and estimate that prices will decline by almost 10% by the second quarter of 2023. Once the recession ends, from around spring onwards, the housing market will recover due to recession inflation and borrowing costs.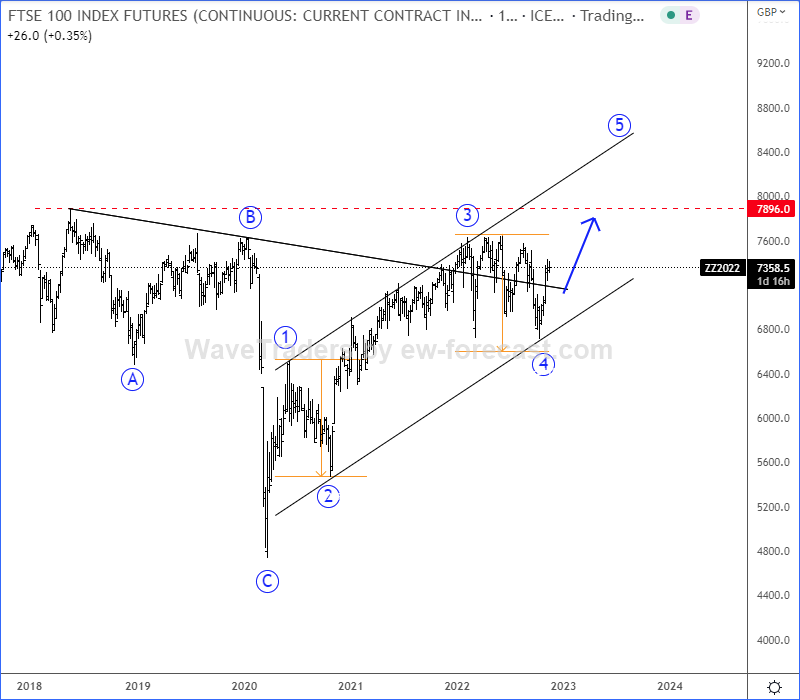 From an Elliott wave perspective, Footsie is unfolding a five-wave bullish impulse towards all-time highs, where final wave 5 can be already in progress. So, technically speaking we believe 8000 – 8500 area is coming, just keep in mind that this could be also final leg of a completion of a bullish trend.
by Stavros Chanidis
Watch our latest video analysis sponsored by Orbex. CLICK HERE