Palladium is a rare metal that is used in medicine, chemical applications, jewelry, dentistry, hydrogen purification, electronics, and groundwater treatment. In reaction with hydrogen and oxygen within the fuel cells, can produce heat, water, and electricity.
The global mining of Palladium takes place in Russia, therefore the demand for solar panels, fuel cells, and nuclear power plants saw a huge increase instead of its supply, which is facing export restrictions due to the sanctions of the EU and USA against Russia.
The traded value now is at 1958 points, dropping just from the recent all-time high at 3433 points in March 2022, whereas the all-time low was at 148 points in May 2003. So, in almost 20 years has seen an increase of 2,200%.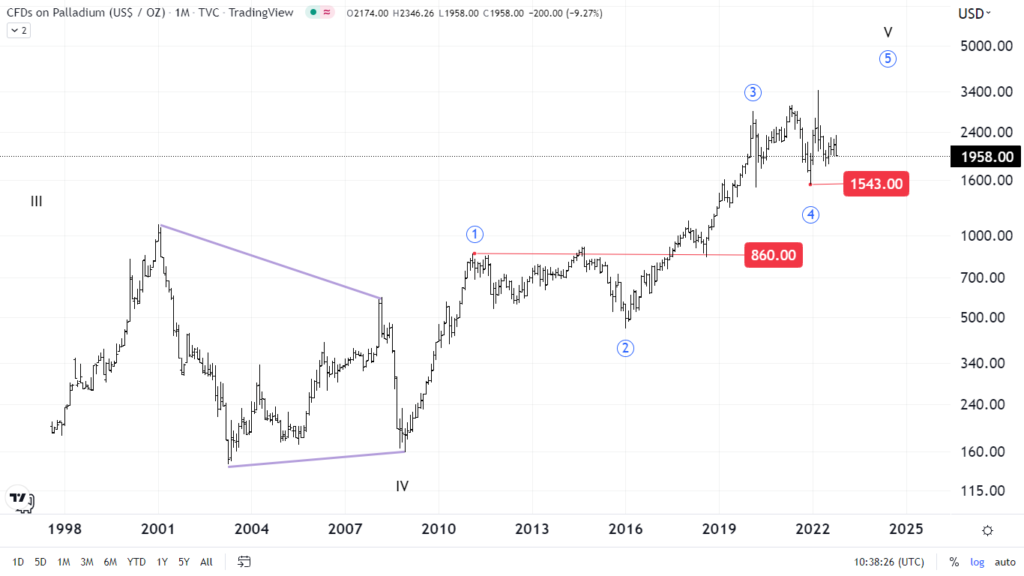 From the monthly trading chart (log scale), the metal has finished with its III and IV waves– a triangle for the IV wave -, and is on the way to unfolding the final V. Within this last impulse wave, it seems that the ((1)), ((2)), and ((3)) waves have been completed. The ((4)) Primary wave may be ended or is about to end, because we see many fluctuations and sideways corrective patterns, as of a flat or a triangle.  In EW terms, there is a chance for a further rally on metal going into 2023.
by Stavros Chanidis
Interested in cryptocurrencies? Ethereum Is Outperforming Stocks And Commodities. CLICK HERE