Τhe Bill & Melinda Gates Foundation (BMGF) has announced it will invest $200 million in digital identity projects, which will include digital public infrastructure, including public registry databases to help meet the 2030 goal of achieving United Nations, Sustainable Development Goals (SDGs).
The $200 million in new funding — part of an overall $1.27 billion program from the BMGF to support global health and development projects is closely linked to SDG target 16.9, for which programs are supposed to be needed digital identity.
The funding comes in addition to several existing global digital identity initiatives supported by the BMFG, even as such actions come under fire for violating citizens' individual rights, such as privacy.
Τhe digital identity will serve as a means of coercion and forced compliance with the outrageous demands of a never-ending vaccine regime. Microsoft is a founding member of the ID2020 alliance (in 2018) and appears to be working with it, while Kim Gagné, chairman of the ID2020 board, is a former Microsoft executive. Other founding partners of ID2020 are Gavi, BMGF, World Bank, Accenture and Rockefeller Foundation.
From an Elliot wave perspective we see stock in a deep retracement, ideally it's wave 4 that can be looking for a support at 38.2-50% Fib level, at 180-220 zone. This certainly looks like attractive long-term swing zone for a new bounce, but for a reall bull run we need to see stocks back above 295.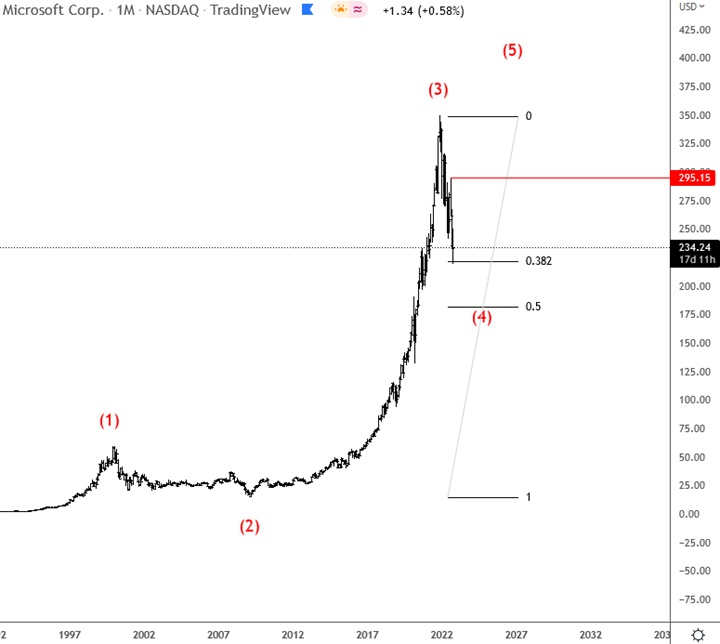 by Stavros Chanidis and Grega Horvat
USDMXN is ready to break down. Click here