Lithium carbonate on strong demand for batteries, as the price exceeded $71.000 per ton on the Chinese commodity exchange.
Unlike the other commodities that followed the opposite direction due to higher inflation, lithium carbonate prices rose 4 times since the same period last year. With the increasing demand and usage for the manufacture of batteries for making electric cars, smartphones, and other devices, the price of lithium exceeded $71.000 per ton on the Chinese commodity exchange. And if the Yuan was stronger compared to the US Dollar now, it would be at a much higher price. 
The reasons behind this rising are the technological turn to more environmentally ''correct'' products, and additionally, the extremely high demand for electric vehicles in China which is the world's largest electric cars market. Also, the shortage of components linked to the batteries' cells and the problems in the supply chain are causing delays and forcing buyers to pay higher and wait for their vehicle. According to data from Bloomberg, sales are doubled compared to 2021. 
So, where did the prices go? If we estimate the weighted average growth from August 2020 till now, we see the prices go from $6,128 to $13,924 to $59,928 per metric ton, so we are talking about 312,719% annualized growth. Global demand for lithium reached 350,000 tons (about 317,517 metric tons) in 2020, but industry experts predict a six-fold increase in demand by 2030. China produces around 80% of the world's lithium. The prospect of running out of this rare element is the worst-case scenario for many countries.
That's why China's interest in Africa has helped dozens of nations to follow her example. In May, the leading African mining countries gathered for a unique 'Invest in African Mining Indaba' in Cape Town. Also, based on new research done in the US, lithium deposits have been identified in states such as Nevada, California, Maine, and North Carolina. 
Hence if it's not too expensive for the large companies to mine, in the future we may see the prices of lithium decrease, as well as the prices of electric cars, becoming more accessible to citizens.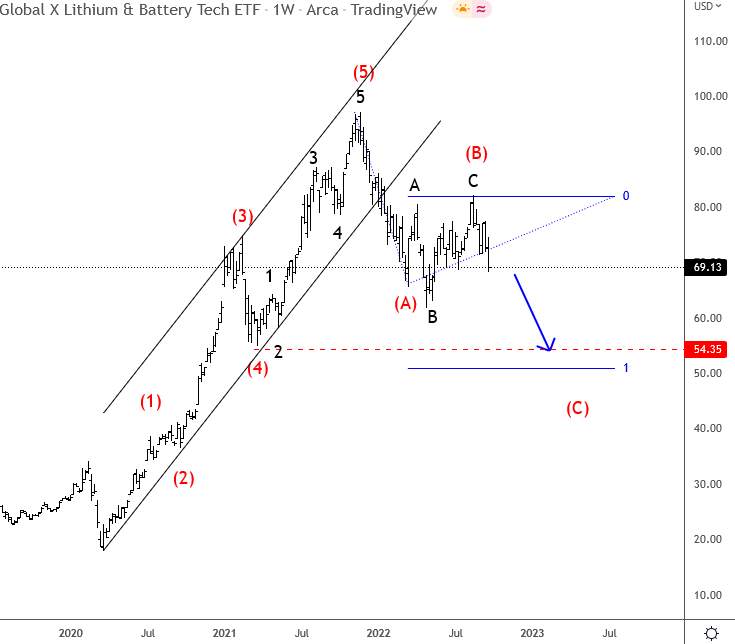 Technically speaking we are looking for further weakness on Lithium and Battery ETF, which obviously has a lot to do with the global events. We see recession coming based on latest CB decisions and economic events. Some sectors are already suffering, and Global X Lithium & Battery Tech ETF may not be an exception. 
by Stavros Chanidis and Grega Horvat
Check also our latest article about US Dollar and stocks. CLICK HERE