Copper is ubiquitous in the modern world, being used in everything from telephones and computers to water pipes and cables. The warnings are getting louder: the world is headed for a desperate copper shortage. Humans are more dependent than ever on a metal we've used for 10,000 years—new deposits are drying up, and breakthrough technologies that transformed other commodities haven't materialized for copper, so far.
As the national news reports In what could prove to be a game-changer for global supply, a US start-up called Jetti says that it has solved a puzzle that has frustrated the mining world for decades. BHP Group, the biggest mining company, is already an investor and has now spent months negotiating for a trial plant at its crown jewel copper mine.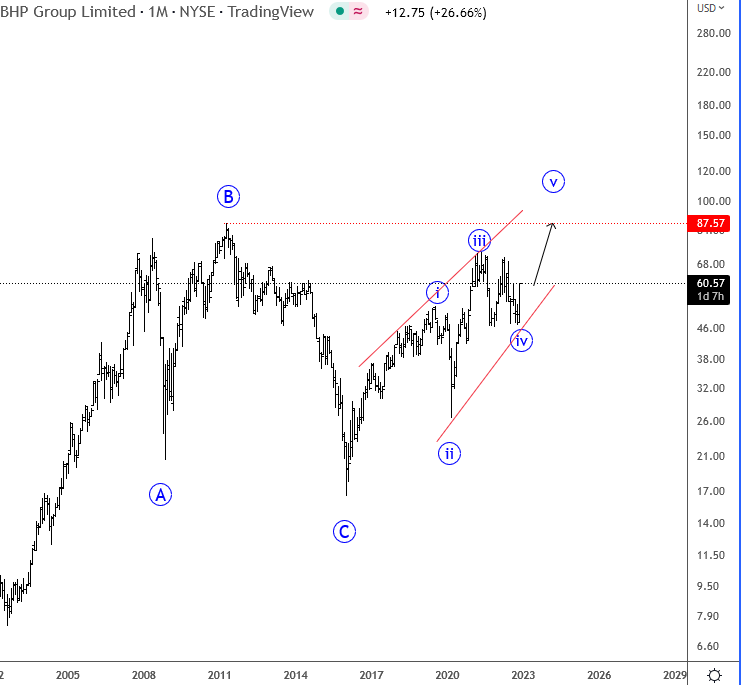 From the Elliot Wave perspective, the BHP Group hasn't followed the other US major indices (on peaks and troughs), so its chart is very interesting concerning the investment in Jetti.
Looking at the monthly chart, the price is in a recovery mode since 2016 when market completed a corrective price action. If that's the case then whole retracement should be reversed by a current recovery which can be even an ending diagonal with subwave five yet to come towards 90-100 target.
Interested in Forex? AUDNZD is turning down with room for more weakness after rally. CLICK HERE