Gold is prepared for a rally back towards 2000, as we see it finishing an A-B-C flat correction from the Elliott wave perspective.
The long-awaited admission by the head of the US Federal Reserve, Jerome Powell, that the central bank will reduce the rate of increase in interest rates (from 0.75 to 0.15%) starting from the next meeting, in mid-December, did not only brought relief to markets that had been depressed by the US labor market data. It also sent the gold into a pole position for the start of a rally.
As the Fed slows the pace of its tightening policy, it will create more weakness in the dollar and therefore support gold prices. And indeed, this week, the dollar has lost about 1% overall, while gold prices have risen by 2.5% during that time. And, not coincidentally, the precious metal surged 3.1% immediately after Powell's comments, returning to the $1,800 an ounce level, posting its biggest daily gain since April 2020 and lifting its price to its highest level since in August.
Bank of America's commodities analysts, led by Francisco Blanche, think gold still has a way to go – but in a good way. In a 2023 outlook note on commodities, BofA says that in 2023 the price of gold could exceed $2,000 an ounce, noting that of all precious metals, gold has the most to gain from a conversion of the Fed, and with relatively limited commercial uses, gold has always been driven by investor demand, which tends to be influenced by borrowing costs and gold. The Fed's shift away from aggressive rate hikes in 2023 is expected to bring new buyers into the precious metals market, the bank notes.
With the World Gold Council pointed out in its research that this trend does not look likely to change, 25% of the world's central banks expect to increase their exposure to precious metals, compared to 21% which was the corresponding percentage last year.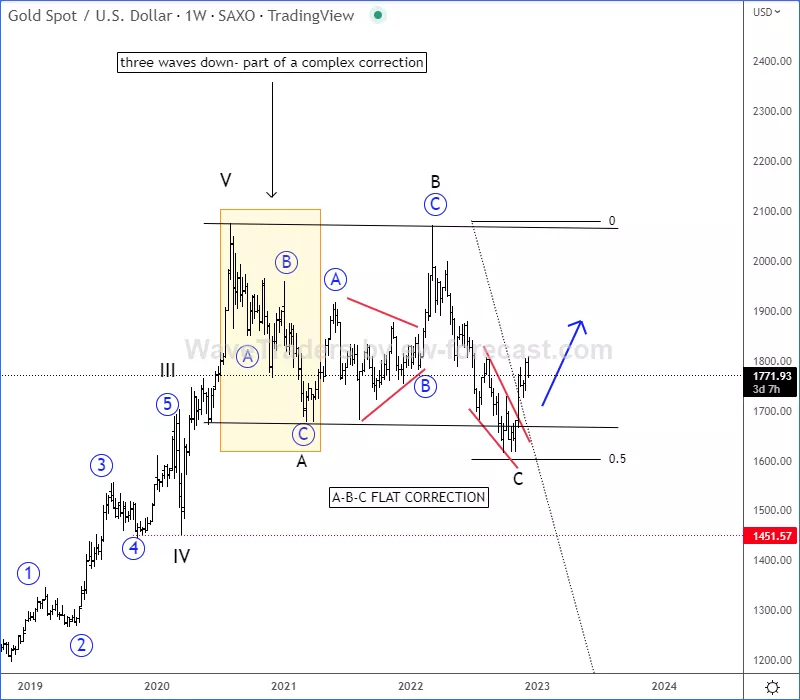 From the Elliot Wave perspective, gold is finishing an A-B-C flat correction on the weekly basis. Flat correction is a 3-3-5 pattern, where first leg A and second leg B are made in three waves A-B-C, while third leg C is a motive wave that is made a sharp or impulsive five-wave leg, which we see as an ending diagonal formation.
Check also our latest article about technology sector. CLICK HERE