Sequoia Capital predicts technology sector won't recover before 10 years, but from Elliott wave perspective NASDAQ looks corrective within uptrend.
Doug Leone, a partner in Sequoia Capital, predicts a worse crisis than 2000 and 2008 for the coming years. In particular, the situation today is more difficult than both '08, which was a financial crisis, and 2000, which was a technology crisis, Leone said, speaking at the Slush startup conference in Helsinki.
The Nasdaq Composite is down nearly 30% year-to-date, facing a bigger decline than the Dow Jones Industrial Average or the S&P 500.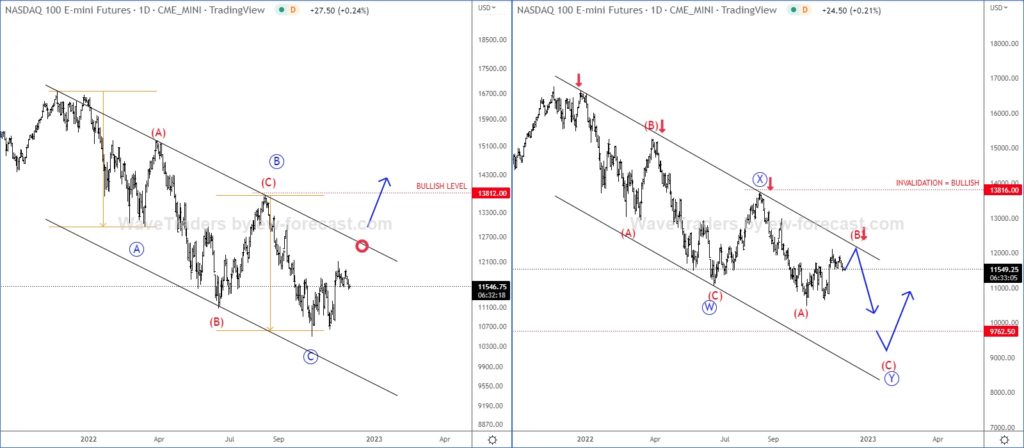 From an Elliot wave perspective we are observing two counts on NASDAQ at this stage. In the primary count, A-B-C correction from the highs can be completed, but there's no evidence for a bullish reversal yet. So, while the price is below channel resistance line, there's a chance for deeper and complex W-X-Y corrective decline as a secondary count, where final subwave (C) of Y is still missing. Technically speaking, if NASDAQ manages to recover back above channel resistance line and 13800 level, then bulls could be already back in the game. However, if NASDAQ suddenly sells-off at the end of the year, then 10k-9k support can be seen before bulls show up.
Check our latest macro report for the week ahead HERE