Citigroup is trading in a higher degree corrective cycle wave, as it downgrades the target for S&P500 due to two risks for US stocks.
The year-end target for S&P 500 will be revised from 4,200 previously to 4,000 because of the lower earnings per share that have been estimated from $226 to $221, according to Citigroup's Strategists. Moreover, the year-end target for 2023 will drop to 3,900 since the earnings per share will decline to $215. However, in the first half of 2023, they see a step back in FED's monetary policy respecting the interest rate hike. This could be a support to the stocks then due to a flat environment till the end of the year.

From the Elliot Wave perspective, the monthly chart of Citigroup shows an extraordinary decline against $570 in the 2007s crisis which was the higher degree corrective Cycle wave.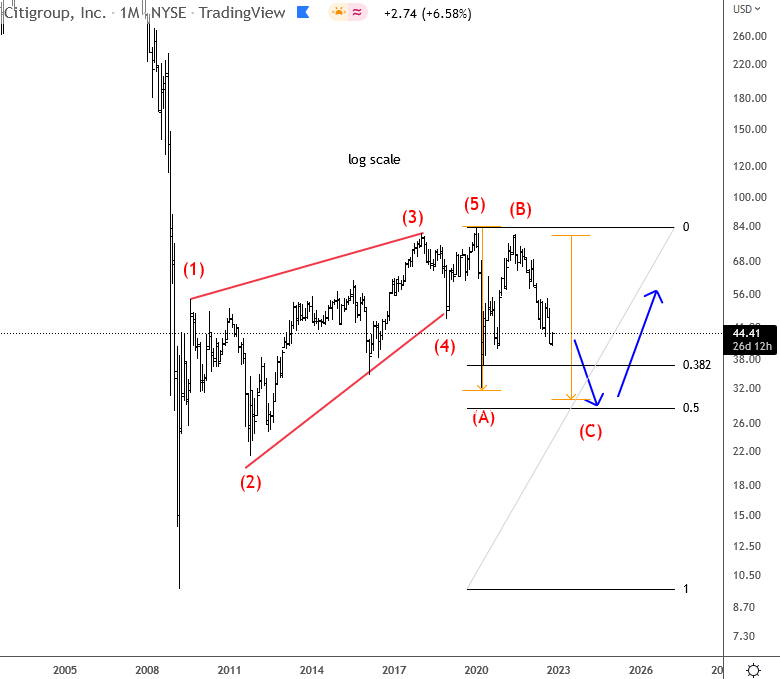 After the bottom at $9.70, the stock seems that for over a decade went slightly up with overlaps and having reached $83 which is the end of the first motive wave; a leading diagonal. Therefore, now it is trying to complete a contra-trend movement with A-B-C structure. We assume that around $32 would be a good target price for a potential turn up back to bullish mode, the long term.
by Stavros Chanidis and Grega Horvat
Crude oil can be turning bullish. Check our latest chart HERE