Citigroup is trading in a higher degree corrective cycle wave, as it downgrades the target for S&P500 due to two risks for US stocks.
The year-end target for S&P 500 will be revised from 4,200 previously to 4,000 because of the lower earnings per share that have been estimated from $226 to $221, according to Citigroup's Strategists. Moreover, the year-end target for 2023 will drop to 3,900 since the earnings per share will decline to $215. However, in the first half of 2023, they see a step back in FED's monetary policy respecting the interest rate hike. This could be a support to the stocks then due to a flat environment till the end of the year.

It is expected less severe downturn than feared despite the 2023 earnings aggressively negative outlook. This is proven by historical data which showed that the multipliers tended to move lower early in the recession instead of higher toward the end of the recession based on the past four recessions.

It is estimated also that the outflows from the European equity funds are $98 billion or -6% of assets under management for 8 consecutive months. In such a case based on previous occasions, MSCI Europe gained 16% over the next 12 months when the outflows were -6%. Hence, once again the global economy is on the brink of a recession due to the crucial energy crisis and runaway inflation.

Nevertheless, they recognize two main risks for the stocks. The first risk focused on the inflation and economic data that are deteriorating faster than currently discussed, and the second risk is considering the FED's rapid pace of interest rate hikes which could lead to unintended consequences regarding the overall markets.
From the Elliot Wave perspective, the monthly chart of Citigroup shows an extraordinary decline against $570 in the 2007s crisis which was the higher degree corrective Cycle wave.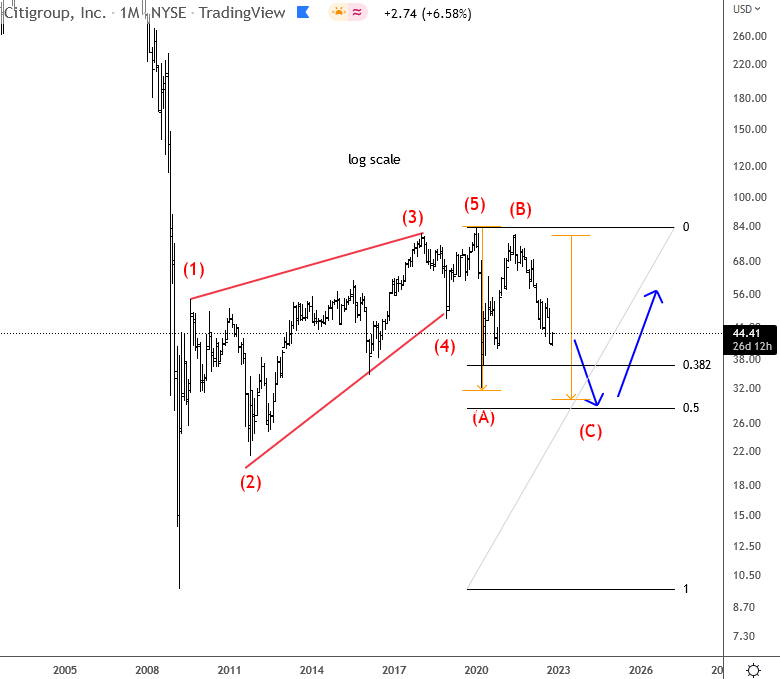 After the bottom at $9.70, the stock seems that for over a decade went slightly up with overlaps and having reached $83 which is the end of the first motive wave; a leading diagonal. Therefore, now it is trying to complete a contra-trend movement with A-B-C structure. We assume that around $32 would be a good target price for a potential turn up back to bullish mode, the long term.
by Stavros Chanidis and Grega Horvat
Crude oil can be turning bullish. Check our latest chart HERE