From 2007 to 2022, Netflix's subscriber base grew from 7 million to 221 million, nearly 3,000%. Netflix is ​​known as one of the pioneers of mass streaming of audiovisual content. Founded in 1997, Netflix began as a mail-order DVD rental company. One of the co-founders, Reed Hastings, told Fortune magazine that he got the idea for Netflix after being overdue a $40 charge for a VHS he had rented.
The Walt Disney Company got involved in the streaming industry in 2009 when it first joined Hulu as a subsidiary, but invested more directly in 2016 when it bought 33% of BAMTECH Media, a video streaming technology company. While Disney arrived much later on the scene compared to Netflix, it didn't take long for Disney's platforms to win.
Let's see these 2 stocks from an Elliot wave perspective combined with the above news and plans for each of them.
NETFLIX Weekly Chart
As the chart shows, Netflix after a huge upward movement to 700.99 dollars with a top of a five wave sequence that was revrsed by a sharp five wave drop, so we see that as wave (A); still only one leg of a higher degree weakness. Now the stock will reach higher prices since it is within a (B) wave of a zig-zag pattern as of an (A) – (B) – (C). So, we can see lower lows in the long-term approaching or even exceeding $150,51. But before that we may see rally into $400.
DISNEY Weekly Chart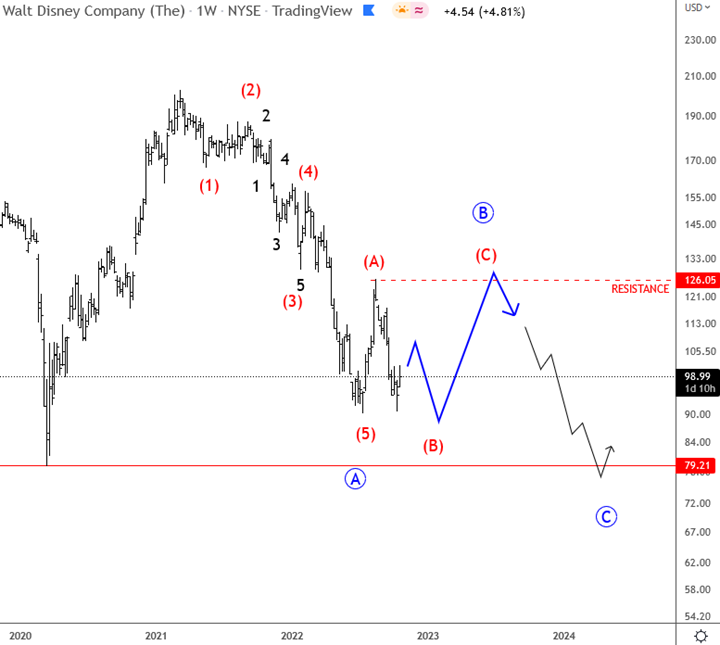 Concerning Disney's weekly chart, we see the same attitude as Netflix's chart described above, meaning that after a nice extended impulse, stocks is coming down into a corrective (A)-(B)-(C) a retracement as of an ((A)) –Now the stock is going to move slightly higher forming a flat for the (B) wave and then will be moved down to an important support level around $80.
by Stavros Chanidis and Grega Horvat
CITIGROUP: Downgrades the target for S&P500 at 3,900 due to Two Risks for US Stocks READ MORE