From 2007 to 2022, Netflix's subscriber base grew from 7 million to 221 million, nearly 3,000%. Netflix is ​​known as one of the pioneers of mass streaming of audiovisual content. Founded in 1997, Netflix began as a mail-order DVD rental company. One of the co-founders, Reed Hastings, told Fortune magazine that he got the idea for Netflix after being overdue a $40 charge for a VHS he had rented.
By 2007, Netflix had grown from a relatively modest DVD rental company to a groundbreaking subscription-based streaming service. While there were few other streaming platforms at the time, Netflix had a significant first-mover advantage, operating on a subscription model and acquiring a wide range of distribution rights from different studios. This allowed the company to grow quickly and establish itself as an industry leader.
The service has become so powerful that the word "Netflix" is now synonymous with watching a movie or TV show. But while it's one of the most recognized streaming platforms in the world, has it managed to maintain its dominant position in the industry now that more competitors have entered the fray? And what about Disney?
The Walt Disney Company got involved in the streaming industry in 2009 when it first joined Hulu as a subsidiary, but invested more directly in 2016 when it bought 33% of BAMTECH Media, a video streaming technology company. While Disney arrived much later on the scene compared to Netflix, it didn't take long for Disney's platforms to win.
And as of the second quarter of 2022, Disney's streaming empire (Disney+, Hulu, and ESPN+) has more combined subscribers than Netflix and is gaining rapidly. Other streaming services like HBO Max and Amazon Prime Video also continue to pick up steam, which begs the question: is the Netflix empire starting to crumble?
In April 2022, Netflix shared its first quarter results that showed a loss of 200,000 subscribers. Although just a fraction of its 200+ million subscribers, it was Netflix's first subscriber drop in more than 10 years. This sent the company's share price below $200, the lowest since 2017. As of October 10, 2022, its share price is still at $230, over 30% below the pre-announcement.
But change for the company is on the horizon. Netflix announced plans to launch a cheaper ad-supported service in November — something other streaming platforms like Peacock and Paramount+ have already been offering customers for a few years.
Let's see these 2 stocks from an Elliot wave perspective combined with the above news and plans for each of them.
NETFLIX Weekly Chart
As the chart shows, Netflix after a huge upward movement to 700.99 dollars with a top of a five wave sequence that was revrsed by a sharp five wave drop, so we see that as wave (A); still only one leg of a higher degree weakness. Now the stock will reach higher prices since it is within a (B) wave of a zig-zag pattern as of an (A) – (B) – (C). So, we can see lower lows in the long-term approaching or even exceeding $150,51. But before that we may see rally into $400.
DISNEY Weekly Chart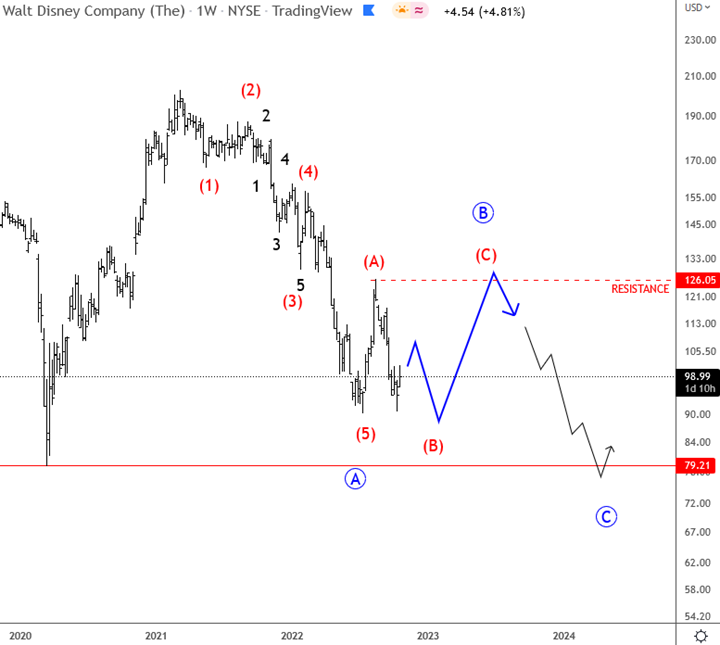 Concerning Disney's weekly chart, we see the same attitude as Netflix's chart described above, meaning that after a nice extended impulse, stocks is coming down into a corrective (A)-(B)-(C) a retracement as of an ((A)) –Now the stock is going to move slightly higher forming a flat for the (B) wave and then will be moved down to an important support level around $80.
by Stavros Chanidis and Grega Horvat
CITIGROUP: Downgrades the target for S&P500 at 3,900 due to Two Risks for US Stocks READ MORE