Platinum is a noble metal with resistance to high temperatures, as well as corrosion. The pre-Colombian civilization has found in the sands of several rivers and was creating artifacts.
The industrial sectors that use Platinum are automotive manufacturing developing catalytic converters, research healthcare developing laboratory equipment, electrical contacts, electrodes, chemotherapies for cancer diseases, dentistry equipment, thermometers, as well as artifacts creating pieces of jewelry.
Platinum is traded at $888.2, between its all-time high of $2308.1 in March 2008, and its all-time low of $334 in October 1998.
Platinum Monthly Chart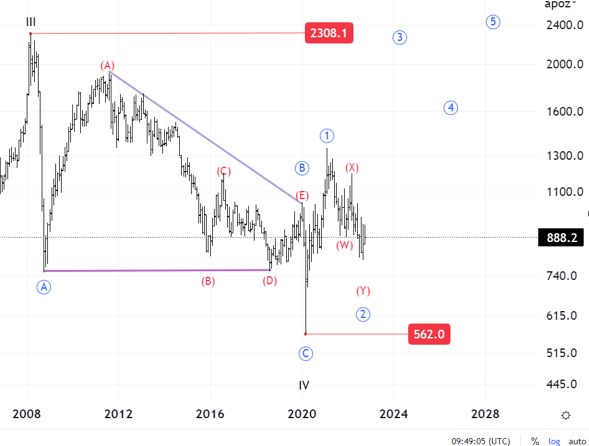 From an Elliot wave perspective, during the ''Lehman Brothers'' crisis in 2008, as the monthly trading chart (log scale) shows, Platinum reached its all-time high price while constructing the III wave. Thereinafter, the next corrective wave as of the IV wave has unfolded an ((A)) – ((B)) – ((C)) zig-zag pattern. The ((A)) was a very sharp decline, the ((B)) was a nice bear market rally as a contracting descending triangle, and the ((C)) had the same sharp angle as the ((A)) did. That's why we support that after a consolidation there is always a thrust to the opposite direction, therefore the ((B)) must be a triangle.
Against $562 started a reaction rally that broke the previous (E) of the ((C)) of the IV wave. So, seeing a rally and a correction after that, we conclude that the metal is at the beginning of its first and second leg as ((1)) and ((2)) of the V wave respectively.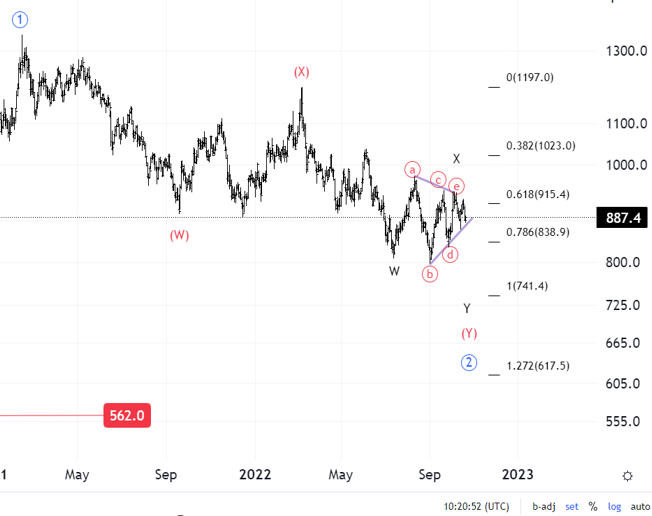 The subdivision – 3-3-3 pattern – took place as a (W) – (X) – (Y), with the (W) forming a zig-zag, the (X) constructing an expanded flat, and the final unfinished (Y) being a zig-zag again as a double combination of a w-x-y. The x was a running contracting triangle, so we expect a thrust in prices breaking the bottom trendline and dropping to the at least 1:1: extension ratio between (W) and (Y) at $741.4.
Moreover, the expected price for the completion of the ((2)) Primary, once it already fell into the 61.8% Fibonacci retracement level of ((1)) is at the next level of 78,6% meaning at $730,13. We believe that the end of the IV won't be broken, so this level is key support for a strong upward move as the ((3)) of the V wave which is possible to exceed the $2000.
by Stavros Chanidis