Apple is ready to resume higher after pullback, as we see it unfolding a five-wave bullish impulse from Elliott wave perspective.
In this article, I want to bring attention to the failure break on Apple yesterday.
It's true, good news occurs in an uptrend, but should be careful when good news pushes sentiment to extremes. Must be an over-crowded reaction after the new product announcements. As you know the big announcement was the debut of the Apple Vision Pro. However, maybe there was a bit of too much optimism from the buyers, so the market normally does the opposite… when least expected.
From an Elliott wave principle looks like we can see some retracement before uptrend may resume which is in full progress now. We talked about this bull run already back in January. CLICK HERE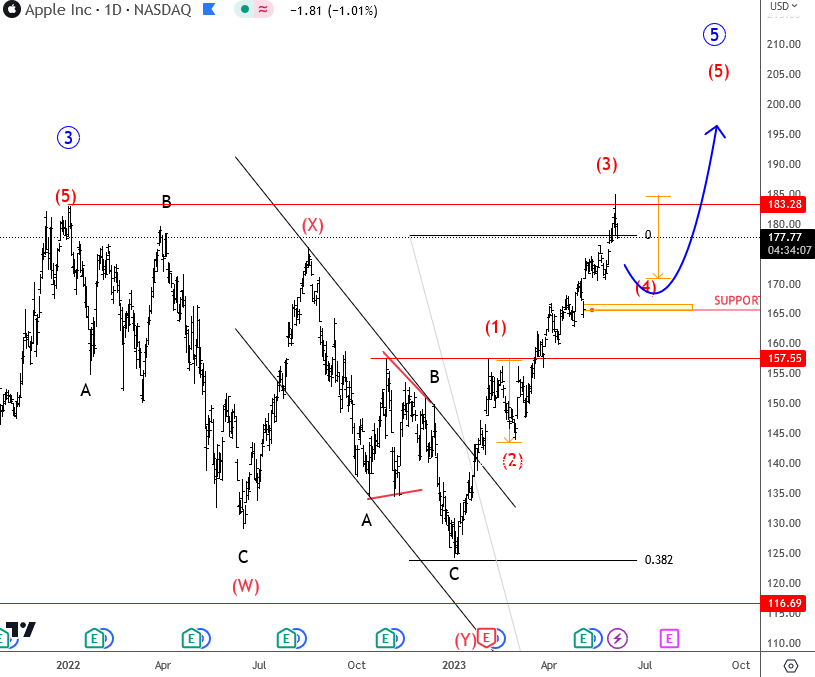 Well, before bull run can be done, we need five waves up. But notice that's not the case yet. In fact, there can be wave four pullback ahead, so its worth to wait for a retracement first and then maybe look for longs from 165-170 area, where we also see a gap from May 04 earnings.
I also talked about this chart in our webinar today. Check the link to the recording below.
Grega
Become a member
Get daily Elliott Wave updates for some major Digital currencies, FIAT currency markets, major stock indexes, gold, silver, crude etc. or apply for unlimited access to the Elliot Wave educational videos.
EURO May Bounce Back-Elliott Wave And Rate Differential Analysis. Check our blog HERE.