ETHBTC is ready for a bullish continuation, as we see it finishing a correction within uptrend by Elliott Wave theory.
Back on January 24, we mentioned and highlighted a corrective movement within uptrend on ETHBTC pair. CLICK HERE
As you can see today, ETHBTC unfolded nice and clean A-B-C correction right into projected support area, from where may now see a bullish resumption due to a slow down of BTC dominance.
Regarding dominance in the Crypto market, we can clearly see that ALTcoin dominance is stepping in, so be aware of ALTcoin season as mentioned and highlighted already 12 days back. CLICK HERE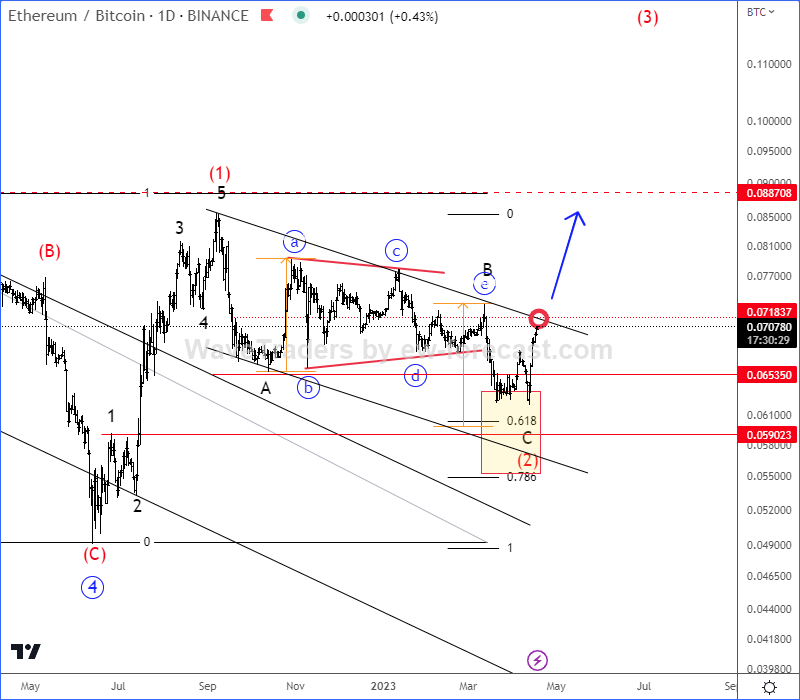 ETH is currently one of the strongest and there's a chance that ETHBTC pair may have a completed A-B-C correction within uptrend, which means that ETH could easily stay stronger than BTC, especially if ETHBTC pair breaks channel resistance line.
If you want to see a detailed view or more analysis like this then you may want to watch below our recording of a latest live webinar recorded on April 17 2023
Check our services and plans at https://wavetraders.com/elliott-wave-plans/