ETHBTC is still bullish, but more gains can be seen after a correction, as we see it just slowing down within ongoing uptrend.
ETHBTC is bullish, but we see it in some kind of consolidation within uptrend. It's actually still trading sideways within a projected bearish triangle pattern in wave B and it may take some time as subwaves »d« and »e« can be still in progress. So, once a triangle is fully completed, be aware of a decline into wave C of a higher degree wave (2) down to projected 0.065 – 0.059 support area and then watch out for further rally within higher degree wave (3) of 5.
Based on the Elliott wave pattern on this ratio below we can assume that ETH/BTC ratio will rise after this drop is completed. Now you are wondering why this should be important for you. Well, if you are trading or are invested in both, ETHUSD and BTCUSD then you may realize that ETH can be less risky as it may fall less in bear market. The proper allocation is important if something goes wrong, and market moves the opposite.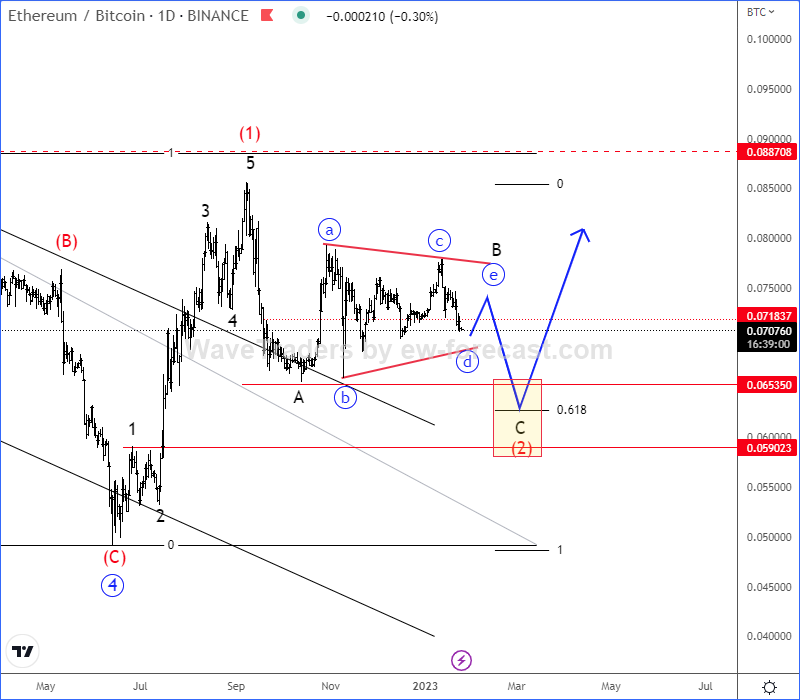 If you want higher degree picture on cryptocurrencies and some of linked stocks, then check our our video below:
Check our services and plans at https://wavetraders.com/elliott-wave-plans/