Last week (12/9 – 16/9) we had some important readings at the meetings of the FED and ECB. Specifically, Consumer Sentiment in the U.S improved slightly in September, helped by lower gas prices, as shown by Michigan's University. The actual preliminary reading rose to 59.5 this month, against the consensus prediction of 60.0, but up from 58.6 in August.
Additionally, the inflation expectations proved durable at 4.6% in September against 4.8% in August. Hence, it was a mixed picture, and the question remains the same. Is there any likelihood that the FED will raise the interest rates on the 21st of September to a full percentage or only three-quarters like the previous 2 meetings did? Properly one answer would be that with gas prices declining, sentiment should rise further. So, the FED should hike the rates only by 75 basis points on Wednesday. On the contrary, rising constantly interest rates, recession concerns, and the labor market's imminent softening could reduce the improvement in confidence.
The major U.S indices were trading lower with S&P500 dropping at -4.77%, DOW30 at -3.78%, and NASDAQ Composite at -5.77% weekly.
In Europe similarly, the German ZEW Economic Sentiment, and the EU ZEW Economic Sentiment, fell below the analyst's forecast and the previous reading in August reached -61.9 and -60.7 from -55.3 and -54.9 respectively. DAX40 dropped only -2.65% weekly, although the facts with the issues in the flow of natural gas and the weakened euro are showing an increasing possibility for a recession in Europe than in the USA.
The Economic Calendar of the week (19/9 – 23/9) has very interesting readings, including RBA rate decisions, when they may not be that hawkish anymore, so Aussie may have issues recovering especially with lower stocks. Then we have hike in interest rates from the FED on Wednesday meetings, such as the U.S Housing Market Index for September, the Japan Core CPI for September, the German PPI for September, the  U.S Building Permits for September, the ECB President Lagarde speaking, the U.S API Crude Oil Stock (weekly), the U.S Home Sales for September, the BOJ Interest Rate Decision, the BOE Interest Rates Decision, and the Manufacturing PMI in Eurozone, Germany, Great Britain, and the USA.  
From a technical perspective, we think that USD remains king as SP500 breaks the trendline support. The US yields also scream for that 3.5% breakout which can cause more fear across different markets, including cryptos.
If you want to be on track with metals, currencies, SP500, DAX and other markets, then make sure to check our services.
by Stavros Chanidis and Grega Horvat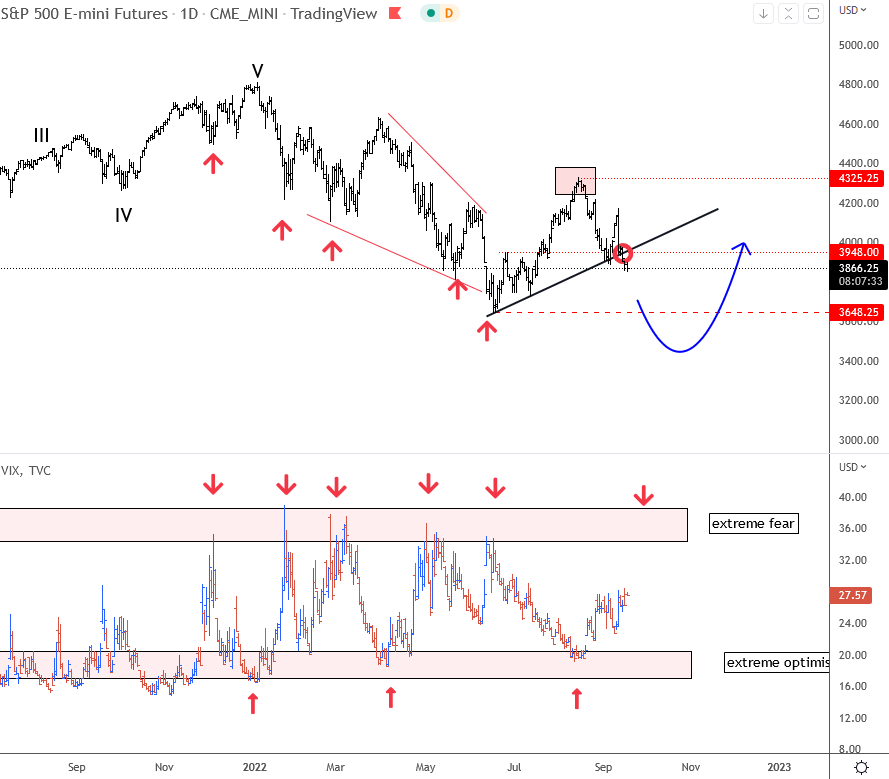 Check what we have to say about GOLD and COT data CLICK HERE