Ethereum turned up perfect from the projected support area
On February 8th, we spotted a completion of wave 3 in the Ethereum CME Futures chart and warned about a pullback into wave 4 before the uptrend for wave 5 resumes. We also mentioned and highlighted nice GAP support around 1500 – 1450 zone.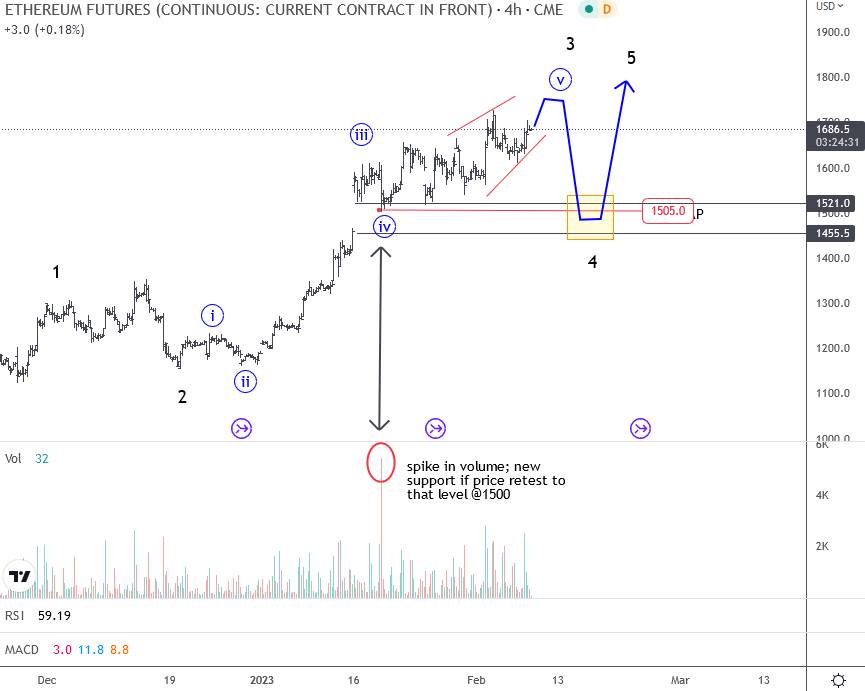 As you can see, on February 15th, Ethereum nicely slowed down into projected support zone for wave 4, from where we have seen sharp reversal and strong recovery that signals for a continuation higher within wave 5.
Of course, today February 17th, Ethereum is already at the highs for wave 5 as expected. However, in Elliott Wave theory after every five waves, we should be aware of a higher degree A-B-C correction before the uptrend resumes.
So what was the reason for that 1450-1500 important support? There were a few factors:
Gap! It reacts as a magnet, then causes a reversal in prices after the fill, because of the execution of unfilled orders in that area.
Base channel! Notice that there was an extended leg up from 1150 to 1700, above the upper line of a bullish channel. Normally such sharp waves are third waves of a higher degree five wave recovery, so usually when you spot that kind of a fast-moving market, keep in mind that more upside can be seen after the next pullback. Black wave 4 in our case is then expected to find the support at that base channel line.
Former wave four! Also, the question is how far can this new wave 4 retrace? Well, normally back to former wave four supports which is clearly here around that gap 1500
Wave 4 fib supports! Yes, these matters as well. Normally it's going to be the 38.2%, plus wave 4=wave 2 distance.
Volume! There was a spike in volume in mid January. from where price moved up to 1700 for 3. Normally this area of a strong volume can be again important if prices come back to it. Because clearly there were some huge orders that caused more upside later. So now, ideal point for new stops! And when these are cleared, we know what market usually does! jumps!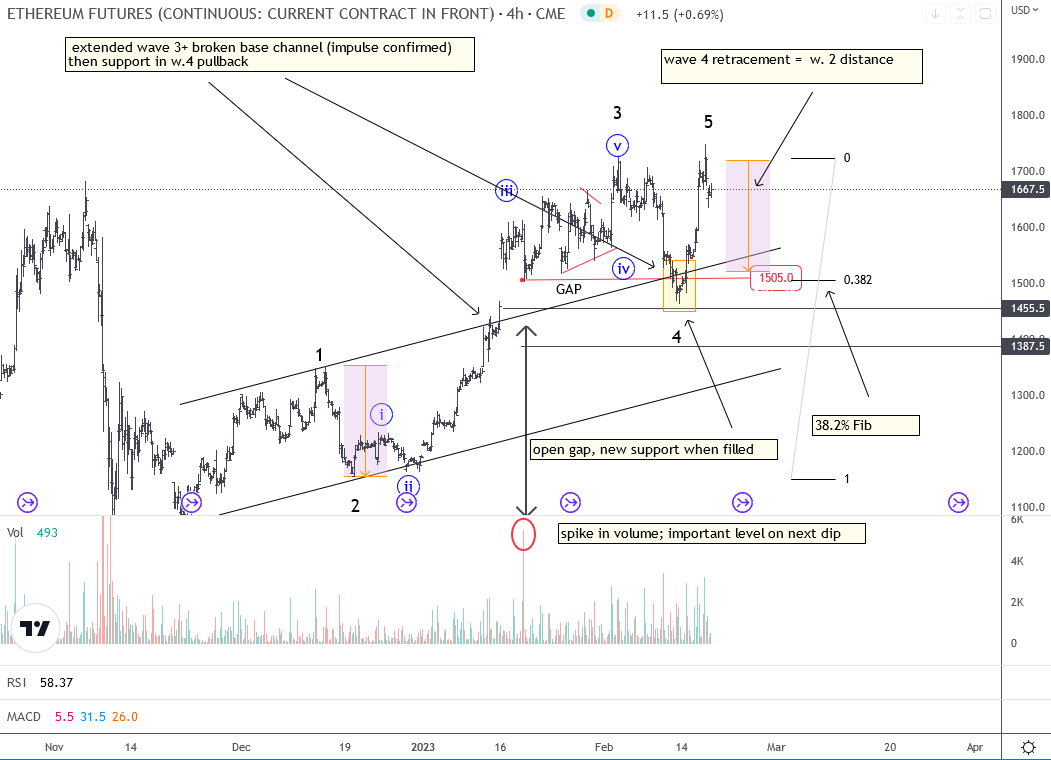 To find out where Ethereum can be headed next, make sure to check our premium services where we update Ethereum each day during the trading week.
Become a member
Get daily Elliott Wave updates for some major Digital currencies, FIAT currency markets, major stock indexes, gold, silver, crude etc. or apply for unlimited access to the Elliot Wave educational videos.
Aussie Slowed Down After A Wedge Formation. Check our article HERE