Cable is looking for a deep retracement targeting 1.18 support from technical point of view and from Elliott wave perspective.
At the start of this year, the cable (referring to the GBP/USD currency pair) was doing pretty well, going above the 1.3100 level. But then things changed as it started to go down. This shift happened after it went up in five waves on the daily chart. Imagine it like a rollercoaster going up and then coming down. Also, there was a pattern that looked like an ending diagonal at the end of that upward move, which is a sign of a trend change. Plus, an important trendline got broken.
So, the drop we're seeing now is not a big surprise. It's like a correction, a kind of pullback, but it's happening quite quickly. This down part we're in is called "wave C," and it's expected to be deeper and last longer than the initial drop. This is mostly because the Bank of England didn't raise interest rates in September.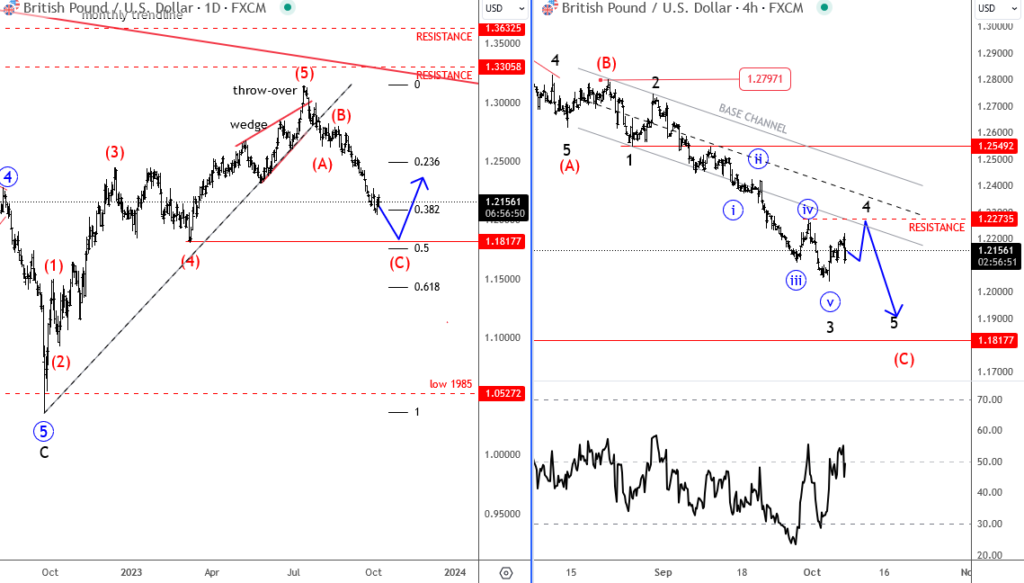 Right now, we're keeping an eye on five smaller waves going down from a point called 1.2797. And there's more of this downward movement to come after a temporary bounce in wave 4.
If you're looking for levels to watch, there's a point at 1.2273 where the price might find it harder to go above. But the really important level  on the downside is 1.181; it's the big support for this entire downward move.
On Monday Oct 09 2023, 15CET, will do another free #Elliottwave webinar:
YT: https://youtu.be/9z2jJ7-xHu4
TV: https://tradingview.com/streams/D8922c5la5/
Trade well,
Grega
www.wavetraders.com
Become a member
Get daily Elliott Wave updates for some major Digital currencies, FIAT currency markets, major stock indexes, gold, silver, crude etc. or apply for unlimited access to the Elliot Wave educational videos.
Crude Oil Turns South For A Deeper Elliott Wave Correction. Check our blog HERE.