US dollar is recovering in current risk-off sentiment due to a slow down on stocks, but don't forget on an impulsive decline at the beginning of 2023, which we see it as first wave (A) of a minimum larger three-wave (A)-(B)-(C) decline. Now that treasury bonds, specifically 10Y US Notes is approaching support, US dollar could easily face resistance, as DXY/ZN (DXY against 10Y US Notes) ratio chart is still looking lower. So, we believe that current recovery is just a corrective one as an an A-B-C rally within wave (B), from where we should be aware of a continuation lower for wave (C). It means that US dollar could be back to bearish mode, while stocks and bonds may stabilize soon.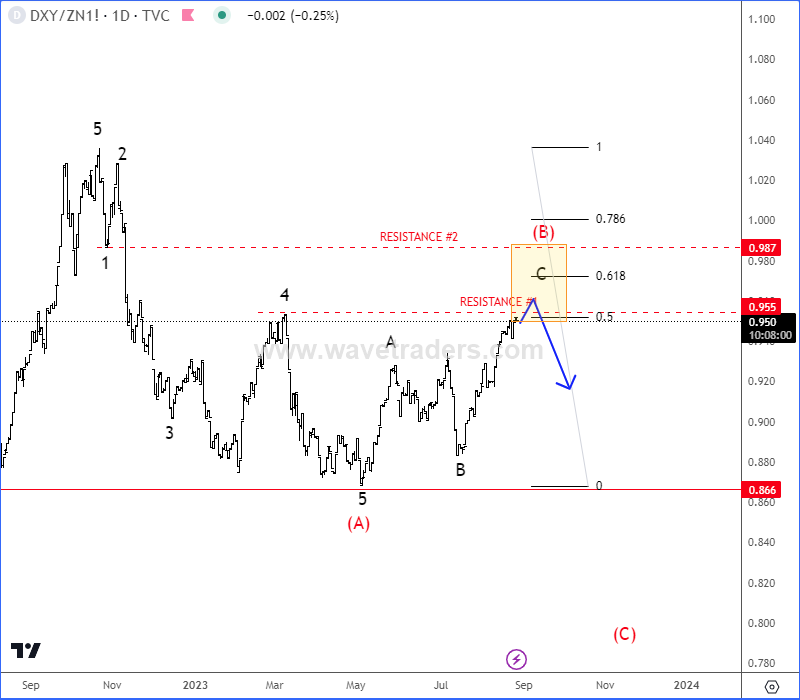 For a detailed view, check our video analysis recorded on August 21, where we talked about US dollar.
Become a member
Get daily Elliott Wave updates for some major Digital currencies, FIAT currency markets, major stock indexes, gold, silver, crude etc. or apply for unlimited access to the Elliot Wave educational videos.
NZDJPY Is Pointing To 90 Area. Check our blog HERE.