MARA shows a completed correction that is positive for Crypto respecting correlation and Elliott wave theory.
Marathon Digital Holdings is a digital asset technology company, which engages in mining cryptocurrencies, with a focus on the blockchain ecosystem and the generation of digital assets. The company was founded on February 23, 2010 and is headquartered in Las Vegas, NV.
MARA actually lost 95% from its high, but looking at the wave structure from Elliott wave perspective on logarithmic scale chart, we can see a 7-swing complex corrective decline labeled as W-X-Y or a-b-c-X-a-b-c after an impulsive five-wave rally in 2020/2021. Correction can be now actually already completed after recent strong rebound away from the lows. Well, if we respect a positive correlation to the Crypto market, then even Crypto market could see bigger recovery this year, especially if MARA confirms bulls with further rally above channel resistance line and 19 region.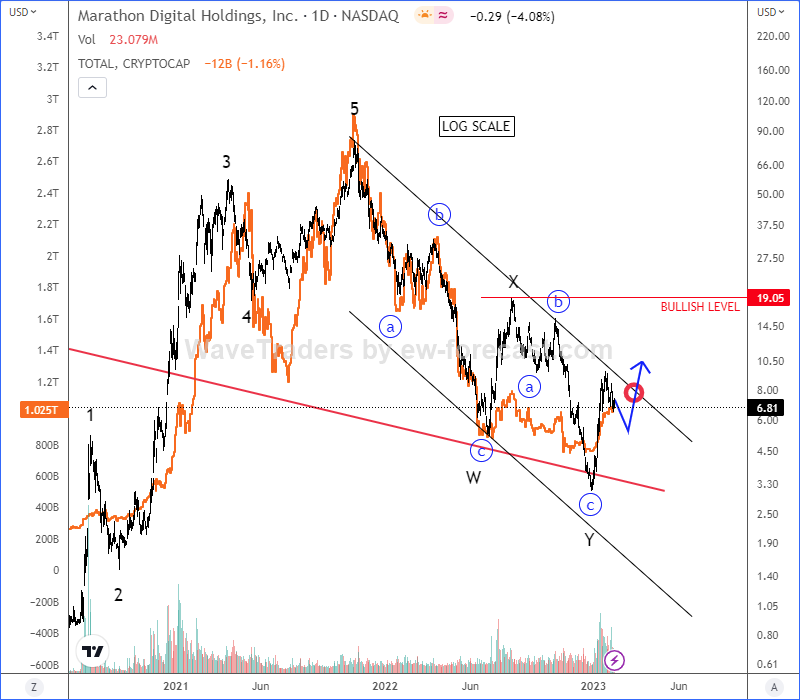 Interested in more analysis? Check our latest video analysis sponsored by Orbex. CLICK HERE