Crypto market found the support along with Tesla and it's now sharply up with huge volume increase after an A-B-C correction from the highs.
Cryptocurrencies turned up nicely in the last few weeks as USD turns down across the board, following FED comments that they are planning to slow down the hawkish policy. One of the reasons for a strong turn up on cryptos was also news by FTX advisers that have found $5 billion cash or sellable cryptos.
We know that some of big names and companies are linked or are fans of cryptos as well. Tesla per example bought 1.5 billion in bitcoin in 2021 but then dumped some big % in q2 of 2022. But more importantly, Elon Musk's Tesla still HODLing $218M in Bitcoin so it appears that they did not give up on cryptos. In fact, there was a nice bounce on Tesla stocks and cryptos at the same time, and looks like both can be bottoming, especially after better than expected quarterly earnings by Tesla.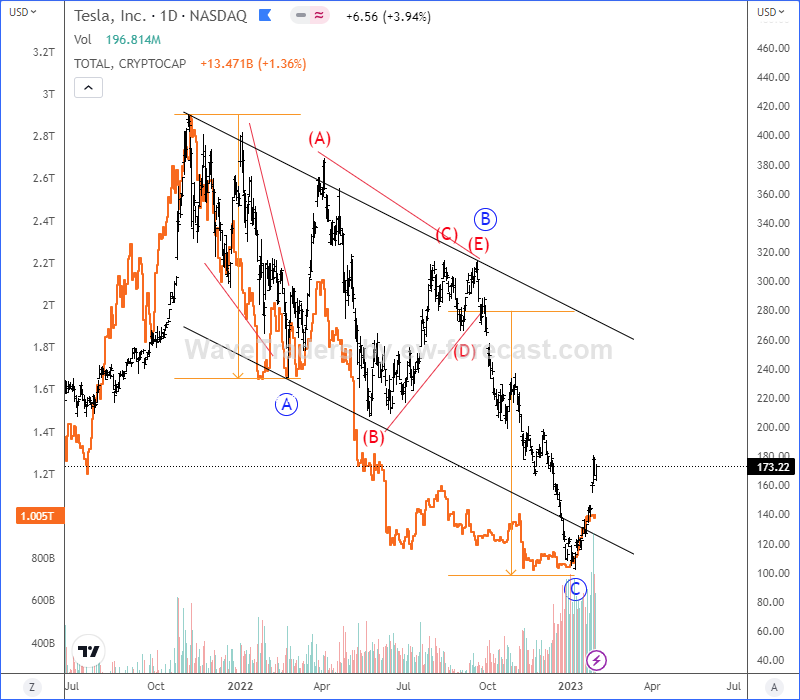 Interested in FX market? USDNOK is showing bearish pattern. CLICK HERE