Hello traders, today we will talk about german DAX from Elliott Wave perspective, which is looking for further rally and bigger recovery. After recent Elliott wave complex W-X-Y corrective decline, DAX formed a nice Elliott wave bullish setup formation. It can easily send the price up to 15500 – 16000 area or higher.
The WXY is a complex Elliott wave that is subdivided into three minor waves. This is a complex correction involving two types of corrective structures. The first leg wave W and third leg wave Y are both zigzag. We can call this specific pattern a double zigzag. We can consider WXY as a 3-3-3 pattern. The first (W), second (X), and third leg (Y) all subdivide in 3 waves a-b-c. In the simplest term, these are two zigzag corrections linked together in WXY. Despite the complex subdivision, this is essentially also a 3-swing correction labelled as WXY if we just focus on the main degree and not the subdivision.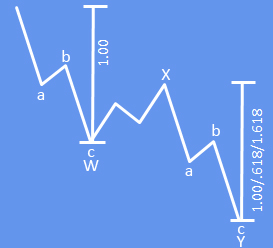 DAX made an Elliott wave impulsive five-wave rally back in March, followed by an Elliott wave complex 7-swing A-B-C-X-A-B-C correction. It actually suggests more upside, especially after recent rebound perfectly from projected golden 61,8% Fibonnacci retracement and former wave 4 swing low 13288 support zone.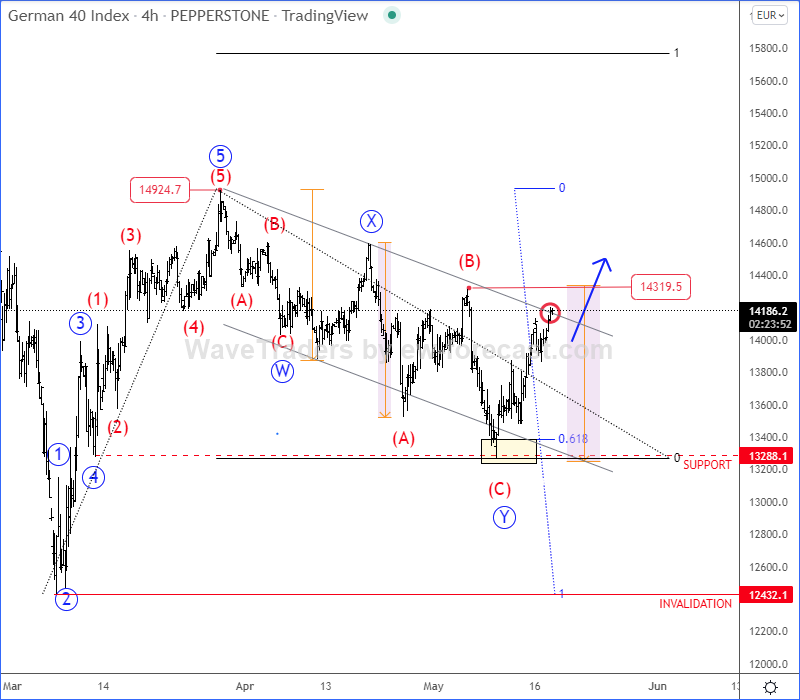 As you can see, DAX looks to have a completed Elliott wave complex W-X-Y corrective decline. It's most likely back to bullish mode as risk-on sentiment can be back in the game. We can actually see it already breaking channel resistance line connected from previous highs, which can be signal for a bullish continuation. However, real bullish price confirmation is above 14319 region that can later send the price up to 15500 – 16000 area.
Happy trading!
DAX is in positive correlation with EURUSD that is also trading at strong support. Check our chart HERE