Bitcoin with ticker BTCUSD is still at strong weekly technical support. After a broken channel upper line, we have seen a retest as a support before a continuation higher above 200-week MA. After a broken 200-week MA, it's been retested as a support along with trendline connected from the lows. So, technically speaking, with current USDollar weakness, Bitcoin is bullish with room for more gains, at least towards the 35k, where we see an interesting open BTC CME GAP area from May 2022.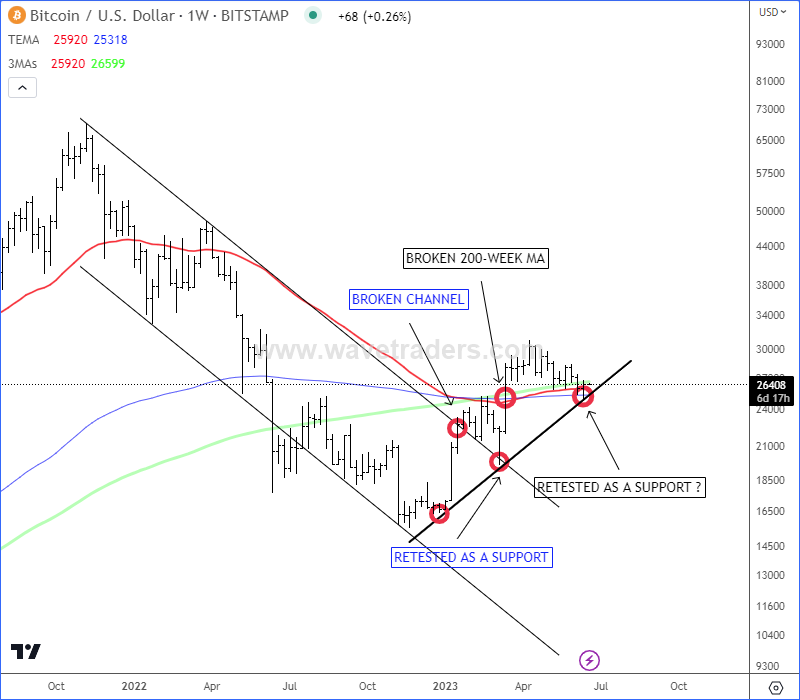 We talked about Bitcoin and other cryptocurrencies in our video analysis shared a week ago on June 12. For a detailed view and Elliott wave outlook, we suggests to watch the video below:
Become a member
Get daily Elliott Wave updates for some major Digital currencies, FIAT currency markets, major stock indexes, gold, silver, crude etc. or apply for unlimited access to the Elliot Wave educational videos.
USDJPY Is Approaching Strong Resistance. Check our free chart HERE