APTOS Bulls Ready, as correction within uptrend can be completed from technical point of view and from Elliott wave perspective.
Aptos Token Surges on Microsoft Partnership Ahead of APT Supply Unlock
Aptos with ticker APTUSD is waking up after a completed higher degree A-B-C correction in (B)/(2). Currently we can see it forming a lower degree bullish setup formation with impulsive wave 1, followed by a-b-c pullback in wave 2 that can push the price into the steepest wave 3 of a five-wave bullish cycle within higher degree wave (C)/(3). Just keep in mind that we still need broken channel resistance line decisively and 9.5 first bullish evidence level to confirm wave 3 of a five-wave bullish impulse.
Bullish confirmation is above 14 level, while invalidation level remains at 3.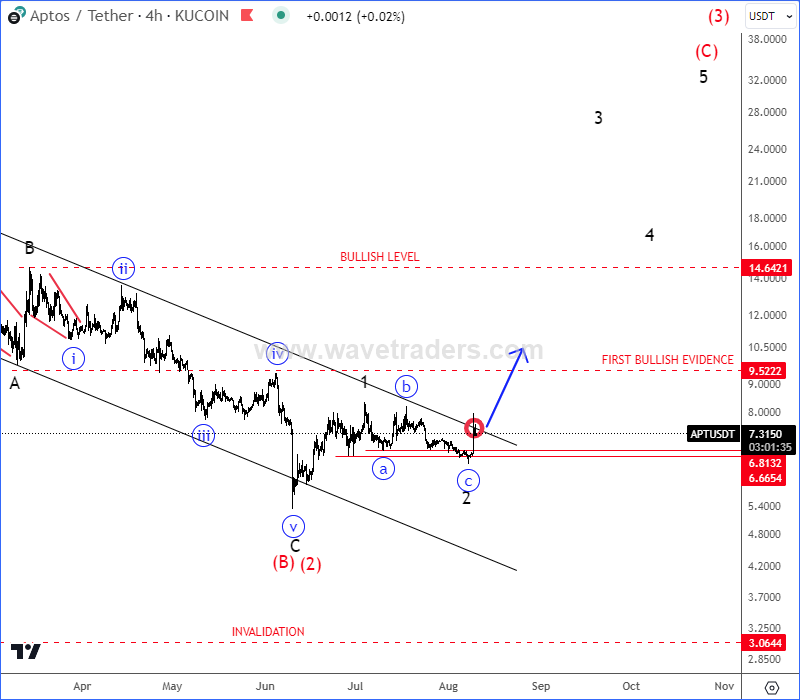 Become a member
Get daily Elliott Wave updates for some major Digital currencies, FIAT currency markets, major stock indexes, gold, silver, crude etc. or apply for unlimited access to the Elliot Wave educational videos.
Bitcoin May Outperform Stocks And Commodities. Check our blog HERE