From an Elliot wave perspective, and according to the lack of supply of grains at least this year, we could analyze the monthly chart for this basic upcoming upward scenario for wheat.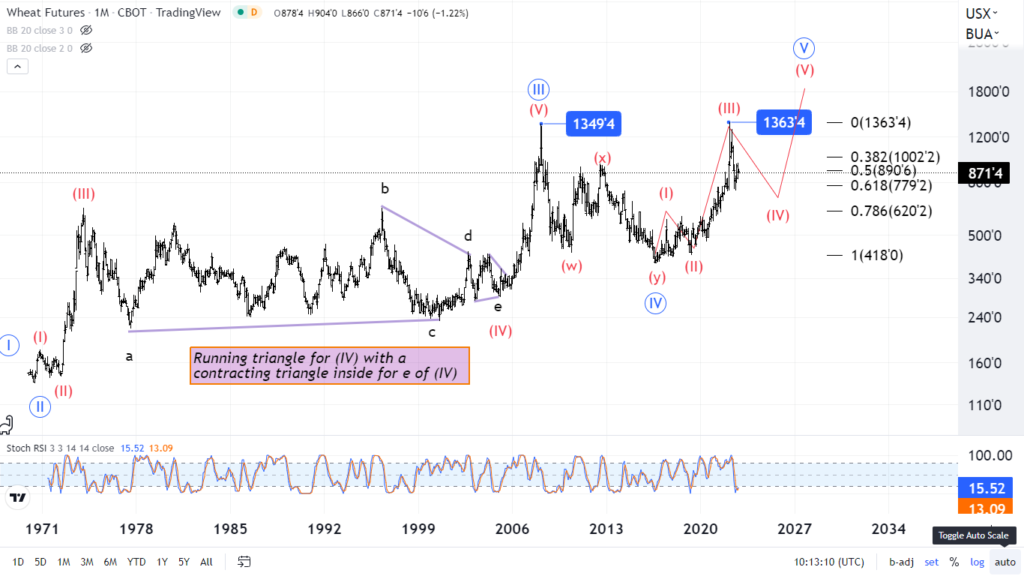 The monthly chart shows us two close peaks with the recent one on March 2022 at $1363,4. Thereinafter, we can see a sharp decline to the 61,8% Fibonacci retracement level based on the (III) wave against $418. This wave is considered the (IV) of the ((V)), but we are not sure if it has been completed yet – because we cannot see a 3-sequence mode – or if it will prevail over the guideline of alternation in Elliot wave Theory, so to be constructed a sideways corrective pattern like a triangle. Also, another supportive tool for expecting an upward move is that of the Stochastic RSI indicator which is at its bottom and shows, at least for now, an oversold market.
On the other side, an alternative scenario due to the result of the Russia – Ukraine war will be the ending of the war and the automatic balance of the supply chain, which in turn will let the prices drop to the level of the end of ((IV)) wave. In such a scenario, the ((IV)) will be completed then, having made a nice expanded flat.
by Stavros Chanidis