USDJPY is trading in 5th wave, as we see it moving higher within in a five-wave cycle from Elliott wave perspective.
The USD finished the week higher NFP number came out strong on Friday, 187k, but data of past months was revised sharply lower so USD spiked down after the NFP release, but then USD gained momentum and finished the session higher following strong Manufacturing PMI data. Also, some FED comments that "3.8% jobless rate is still low" helped to support the Dollar Index which has room for 105-106 resistance based on Elliott Wave patterns and sentiment. However, in the short-term there can be some slow price action because of holidays in US and Canada, so maybe we will have to wait on new real flows till Tuesday/Wednesday.
Looking at the 4h chart of USDJPY, this can be an ongoing fifth wave still with room for 148-150 after the recent wave 4 pullback that found a support last week as expected at the 144.50-144 area. So it appears more gains is coming and that we will have to be patient here regarding the bearish price action, and wait on a new impulse down first, before we may look for any kind of a change in trend. So for now, trend is still up, for 148.
Trade well.
Follow us on telegram here: https://t.me/EWFTraders
Grega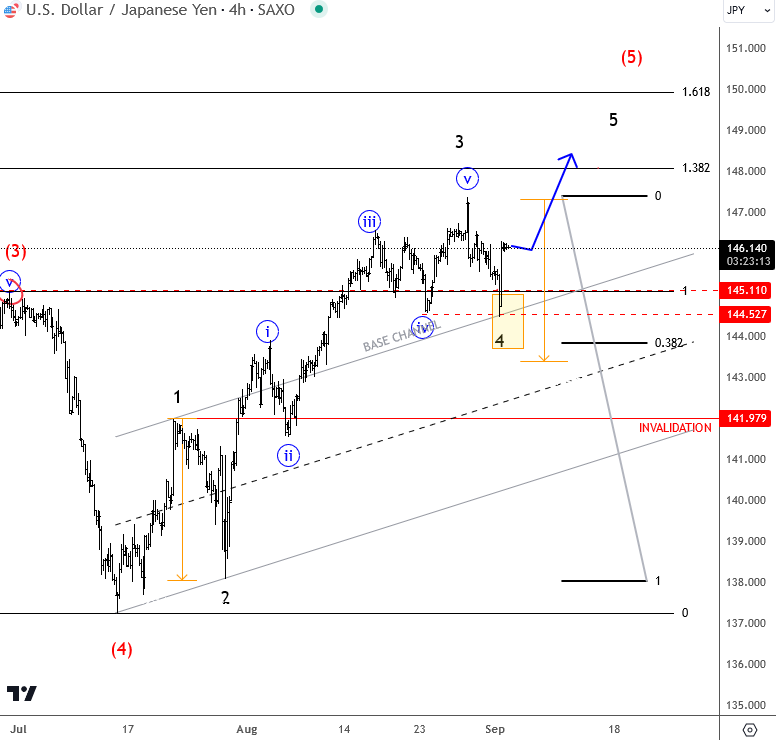 Become a member
Get daily Elliott Wave updates for some major Digital currencies, FIAT currency markets, major stock indexes, gold, silver, crude etc. or apply for unlimited access to the Elliot Wave educational videos.
Flat Correction Propels Gold To July Highs. Check our latest video analysis sponsored by Orbex HERE.