USD Ready To Complete a Bullish Puzzle from technical point of view and from Elliott wave perspective After US CPI Report.
Today holds significant importance as we await the release of US inflation data. Projections indicate a rate of 3.6%, surpassing the previous reading of 3.2%. This surge in expectations has propelled the US dollar's recent strength, driven by speculations that the Federal Reserve (FED) may consider implementing further interest rate hikes in the upcoming meetings. Additionally, escalating energy prices underscore the challenge of swiftly returning inflation to the 2% target. Consequently, the USD remains in an upward trajectory for the time being. Nevertheless, even if the inflation data hovers around or slightly exceeds the 3.6% mark, there's the possibility of a "buy the rumor, sell the news" effect. It's worth noting that the DXY has already seen a 6% rise from its summer lows, suggesting that a robust inflation report might already be factored into current prices.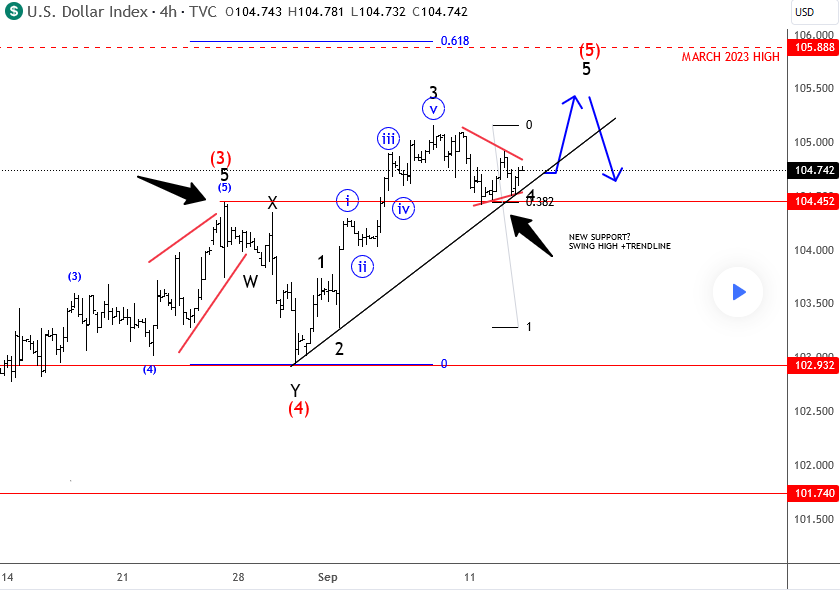 Taking an Elliott wave perspective into account, the recent price action appears corrective, with wave four unfolding within the broader uptrend. This implies that the market might be gearing up for one final upward surge in the coming days, potentially reaching resistance levels around 105.50-106. This zone could serve as the culmination point for higher-degree patterns. Therefore, I'll be on the lookout for signs of a reversal after this anticipated new high.
Become a member
Get daily Elliott Wave updates for some major Digital currencies, FIAT currency markets, major stock indexes, gold, silver, crude etc. or apply for unlimited access to the Elliot Wave educational videos.
Goldman Sachs With Bullish Triangle Pattern. Check our free chart HERE.