The weakness of Japanese Yen can be coming to an end, as we see it nearing key Fibonacci support area, now when FED is on hold and BoJ says its watching the FX rates.
USDJPY has seen a strong reversal last year after failing to break above 150 which appears to be an important and strong resistance. Not only technical, but there were plenty of other factors that are causing a sharp turn on the pair going into the year end. Firstly, there was BoJ interventions back in September and October of 2022 and then we also had US inflation that started to come down, so lower US yields helped JPY to gain as dollar hits resistance against most of its rivals. Despite all of these moves, USDJPY is climbing higher now and even accelerated after new BoJ governor did not change its policy. But we have to keep in mind that FED has now finally decided to put rates on a pause so this can be another potential resistance for the USD in upcoming months, especially if we consider that BoJ also noted that they are watching the FX rates very closely. Surely, they do not want JPY to weaken too much. We are seeing some new lows vs other currencies. So, my assumptions are that FED pause, and BoJ comments and possible new policy decisions can cause a new turning point for the USDJPY.
Looking at the Elliott wave chart we see JPY weak on futures market with currency trading in late stages of a larger A-B-C corrective decline that can stop at the 61,8% – 78,6% Fibonacci support area.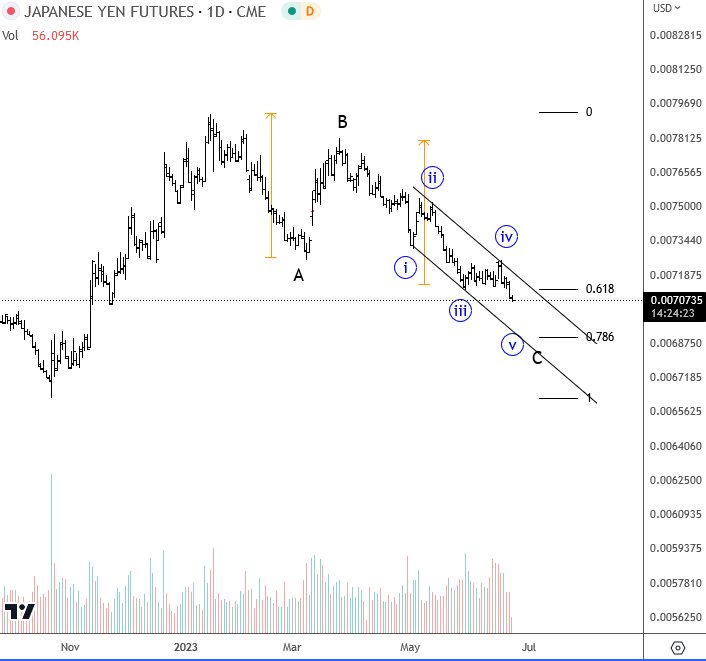 One of the reason for weak Japanese Yen is also current risk-on sentiment. But, considering that NIKKEI225 is already at the all-time highs, with a move out of a triangle, we should be aware of a limited upside, since we know that trust out of a triangle are final in a sequence. So, not only BoJ and FED, but also rehearsal down on Nikkei225 can be supportive for the Yen and can cause strong resistance for the USDJPY pair soon.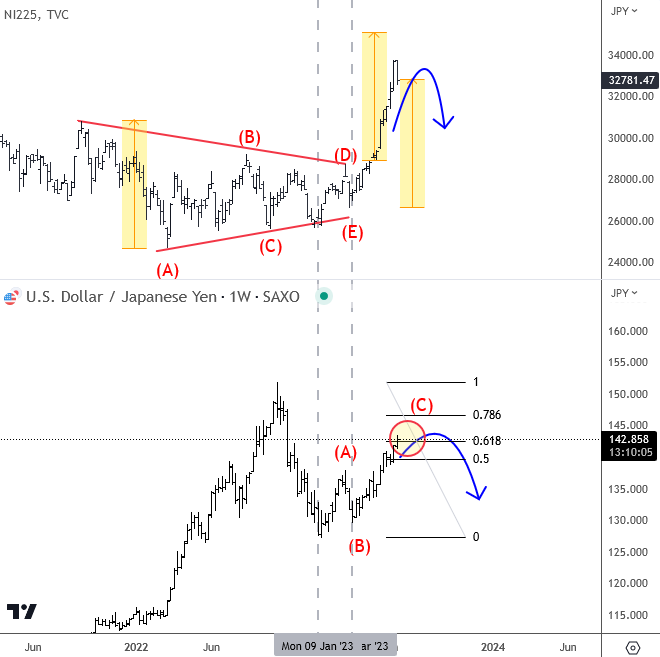 What we want to say and to point out is that Japanese Yen may face a recovery in the second part of 2023, which can occur based on FED and BoJ policy decisions, in-line with the Elliott Wave pattern.
Become a member
Get daily Elliott Wave updates for some major Digital currencies, FIAT currency markets, major stock indexes, gold, silver, crude etc. or apply for unlimited access to the Elliot Wave educational videos.
Cycle Impulse Pushes SP500 Higher. New Surfing The Waves Elliott Wave Video. CLICK HERE