NZDUSD can be finishing an A-B-C irregular/expanded flat correction as expected from Elliott wave prespective.
A few weeks, back at the start of February this year, we saw a USD selling off sharply since start of the year. But normally that kind of reaction after a New Year will not last long; it just simple may not continue for a whole year, so there are pullbacks if moves at the start of the year are really strong and extended. So we saw a plenty of FX pairs moving into some key levels. And NZDUSD was not exception.
We were looking for a flat correction back then with failure break to a new high labeled as B wave, that can belong to an irregular/expanded flat correction. In flats you will see wave C being very sharp and strong and normally it will take price back to former wave A about we talked back at the start of February. So if you were in our community you might have been ready for this type of action.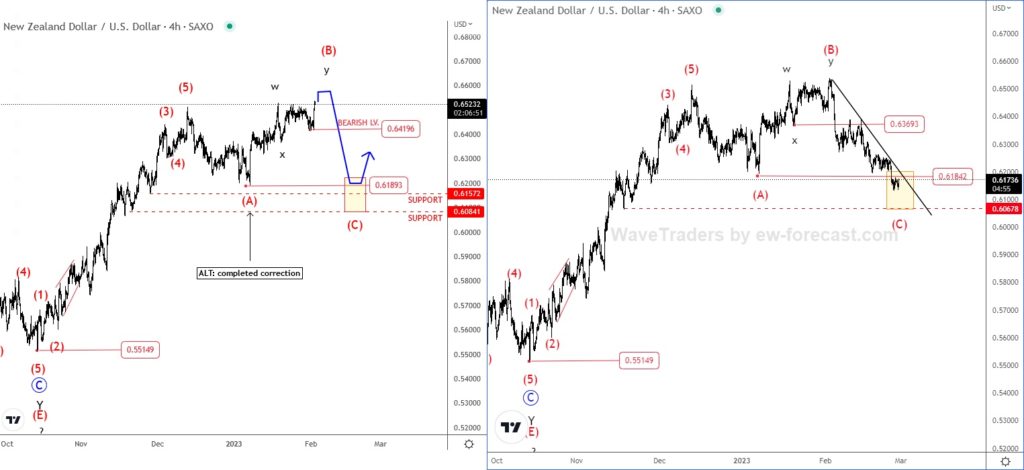 The question is what we do now, down here?
Well, normally after A-B-C flat uptrend can resume, but where and when it's the question. There are a few important rules and guidelines which can helps us to determine if low of C is already bottoming or no?!
To get answer to some of important questions we have track price action very closely in the next few days. So if you are interested in this pair's analysis and other, then check out services.
Trade well,
Grega
Become a member
Get daily Elliott Wave updates for some major Digital currencies, FIAT currency markets, major stock indexes, gold, silver, crude etc. or apply for unlimited access to the Elliot Wave educational videos.
Interested in Cryptos? Bitcoin Cash Has Five Waves Up. Check our chart HERE