Crude oil is trapped in range, but clock for a breakout is ticking, as we see it finishing a bearish triangle pattern by Elliott Wave theory.
Crude oil has been volatile since start of the year, but only within limited important levels. We see energy prices in contracting range driven between bulls and bears based on different events. One of the most important was back in November and December when energy stabilized after announcement from White House that they plan to refill the SPR been $67 and $72 per barrel. Well, market moved nicely up since then, a move that was also caused by overall risk-on sentiment back then when USD sold off, plus war in Ukraine of course.  What's interesting now, is that back in February Biden's administration said that this time they are selling 26 million barrels from SPR, so it appears that they still want to refill their reserves at lower, better prices.  One of the reasons for some unclear moves on crude oil was also last week "fake" report that UAE is considering leaving OPEC.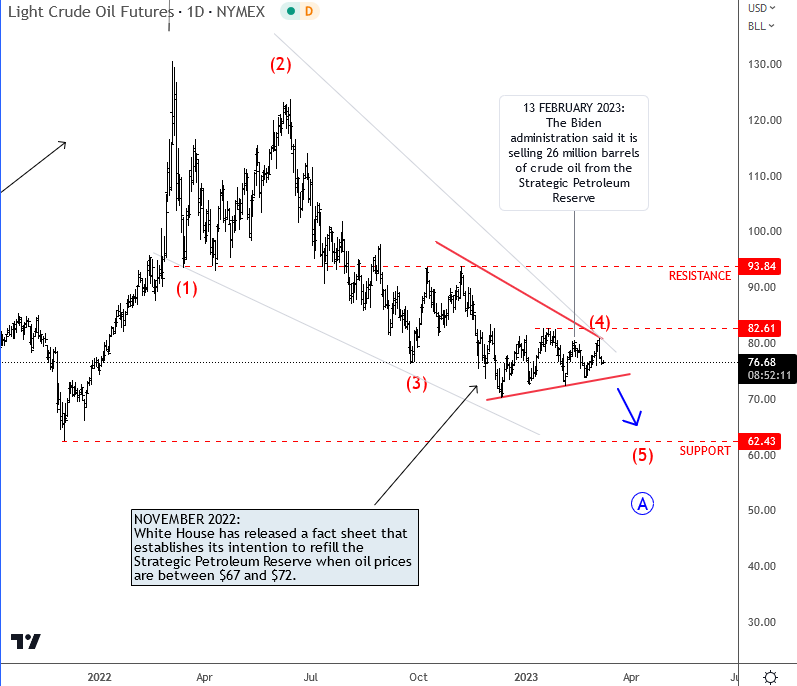 Normally when you have such ongoing fight between bulls and bears, it's important to make a step back and look what the main trend is. Well, we clearly see a downtrend from 2022 highs after energy price caps, so I would expect a continuation into the same direction after current pause, which is a triangle. Triangles are continuation patterns, so I would not be surprise if price slips below $70 once again, especially if lower support line is broken, near $73.00. This can make a drop towards 62 this year.  On the other hand, rise and daily above $83 can open room for 90-93 area, but still will be seen as a corrective rise within downtrend.
Recent strong economic data and hawkish FED is also in favour of USD bull which is bearish for crude oil, but this can change of course if US Jobs and Inflation next week will come down. But technically, it seems there is room for more weakness, at least in the short-term towards the lower side of a range, to 74.00, after a nice bearish reversal pattern on Tuesday, away from 100 Day SMA.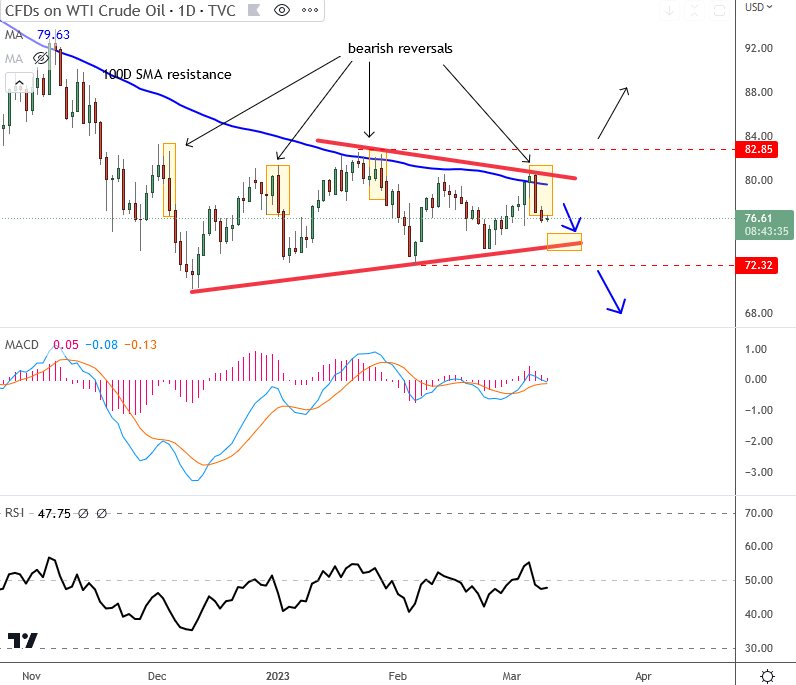 Become a member
Get daily Elliott Wave updates for some major Digital currencies, FIAT currency markets, major stock indexes, gold, silver, crude etc. or apply for unlimited access to the Elliot Wave educational videos.
Amazon Can Be Finishing A Correction. Check our chart HERE.