Natural gas is at critical supply-demand dynamics, but from Elliott wave perspective we may see higher prices in the future.
Deutsche Bank reported that in a particularly critical phase is the supply-demand dynamics regarding natural gas towards the winter season, which the behavior of households will be decisive in the coming months, as their consumption represents a large percentage of total consumption. A supply failure is likely to be avoided at least as the scenarios confirm that a 20% YoY reduction in consumption this winter (and flat annual demand thereafter) is likely to lead to some shortages either early in 2023 or the winter of 2023/24.
The reduction in Germany remains at 40%, while if demand falls by only 10% YoY stocks will not be exhausted even in such a scenario. For certain, fill levels would fall below 10% in late winter 2022/23, but this would not put energy security in doubt until 2024. The European Commission is working on proposals to limit prices. While negotiating with reliable suppliers, for instance, Norway, and strengthening common markets seem to be the Commission's preferred options, the idea of ​​a (temporary) price cap on imported natural gas is gaining ground.
The greater the potential for the implementation of a cap the lower the success of the implementation of the first two measures. Such an implementation could lead to increase supply risks, depending on the design of such an import price cap which would accompany the mandatory demand reduction.
From an Elliot wave perspective, we will examine the Natural Gas chart to see its potential move in the short to mid-term.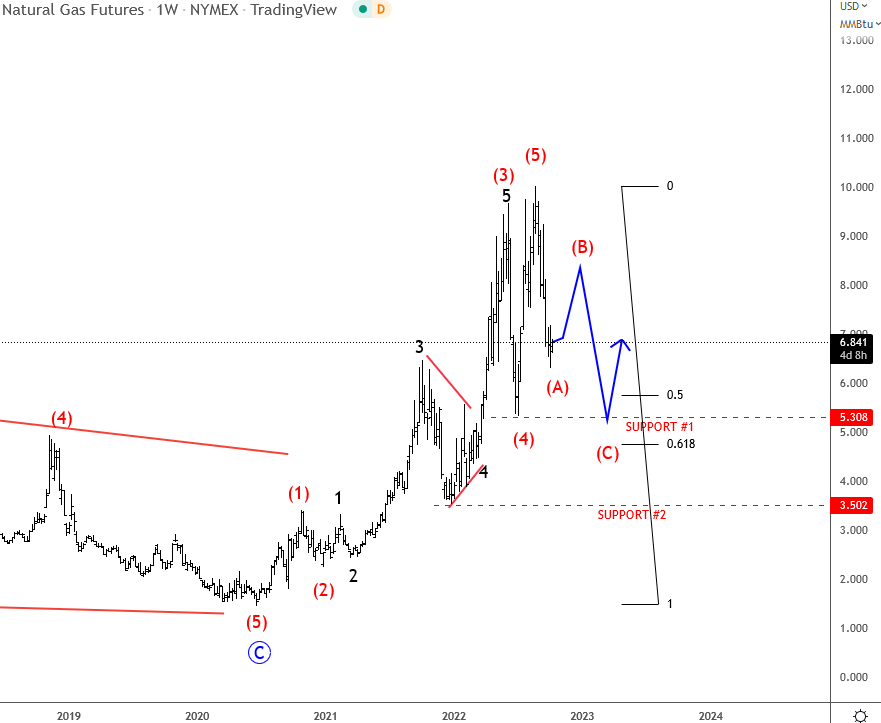 Looking at the weekly chart, natural gas made an impulsive five-wave rally from the lows, which suggests that low is in place and we can expect a bigger recovery. However, in Elliott waves, after every five-wave rise we can expect a slow down in three waves, so we are tracking now an (A)-(B)-(C) correction before the uptrend resumes. First support is around 5.3 level, while second support would be around 3.5 level.
by Grega Horvat and Stavros Chanidis