New G20 Growth Review Strangle at 1.3% and 0.6% Recession For Eurozone
Moody's has revised the growth of the G20 economies in hand, now expecting a total GDP growth of 1.3% in 2023, against a corresponding forecast of 2.1% previously. For the current year, the forecast is 2.5%.
In fact, for the Eurozone, the American rating agency is talking about a recession of 0.6% next year, after economic growth of around 3% in 2022.
Declining economic activity in advanced economies, especially in Europe and North America, will lead to a sharp slowdown in growth in 2023. In 2024, the global economy will grow by 2.2%.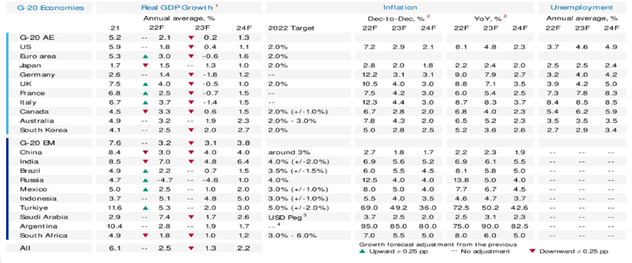 Monetary tightening, rising interest rates, and a rising US dollar pose financial stability risks. The decisive end to the decade of low-interest rates and quantitative easing has caused large economic losses in asset values ​​around the world, raised dollar funding costs, and widened credit spreads. So far, the adjustment to higher interest rates has occurred without a major systemic financial event with global implications. The forecasts assume that central banks will avoid a disorderly tightening of financial conditions.
Geopolitical risks are elevated though and difficult to quantify. The Russia-Ukraine conflict will remain the central geopolitical risk to the broader macroeconomic picture. While the attributed very low probability to the possibility of the conflict extending beyond Ukraine's borders, such an event would mean a significant escalation, creating further and serious downside economic risks. According to the house, geopolitical risks will increasingly drive economic policies worldwide as great power relations become increasingly confrontational.
Markets after the new readings about inflation and the expected easing of the interest rate hiking in the US, on a weekly basis gained, S&P 500 +5,90%, Dow Jones Industrial Average +4,31%, Nasdaq Composite +8,84%, and DAX40 in Europe gained +5,68%.
The Economic Calendar of the week (14/11 – 18/11) has very interesting readings, such as Eurozone Industrial Production for September, OPEC Monthly Report, US Consumer Inflation Expectations, US M2 Money Supply, Japan GDP for Q3, Japan Industrial Production for September, UK Unemployment Rate for September, German ZEW Economic Index and Eurozone ZEW Economic Index for November, Eurozone GDP for Q3, Eurozone Trade Balance for September, US Core PPI for October, UK CPI for October, US Core Retail Sales for October, US Industrial Production for October, Eurozone CPI for October, US Building Permits for October, UK Retail Sales for October, US Crude Oil Inventories weekly based, U.S Initial Jobless Claims (weekly released), including the speaking of Mrs. Lagarde and Mr. Powel and many of the officials.
by Stavros Chanidis
Read further: US Markets End of Bear Market or another Bear Market Rally? HERE