Gamium is finishing a higher degree corrective decline, as we see slow price action and corrective wave structure from Elliott wave perspective.
Cryptocurrency Gamium with ticker GMMUSD made a massive rally at the beginning of 2023, which we see it as a five-wave bullish impulse, which has been now following by a higher degree A-B-C corrective decline. After a leading diagonal into wave A, we have seen a running flat correction in wave B, from where we can now see it finishing a five-wave cycle within wave C.
It can be now actually finishing final subwave (5) of C of a larger, higher degree A-B-C correction that can find the support here at the former wave 4 around 0.0005 – 0.0004 area. Keep in mind that first bullish evidence is only above 0.001050 level.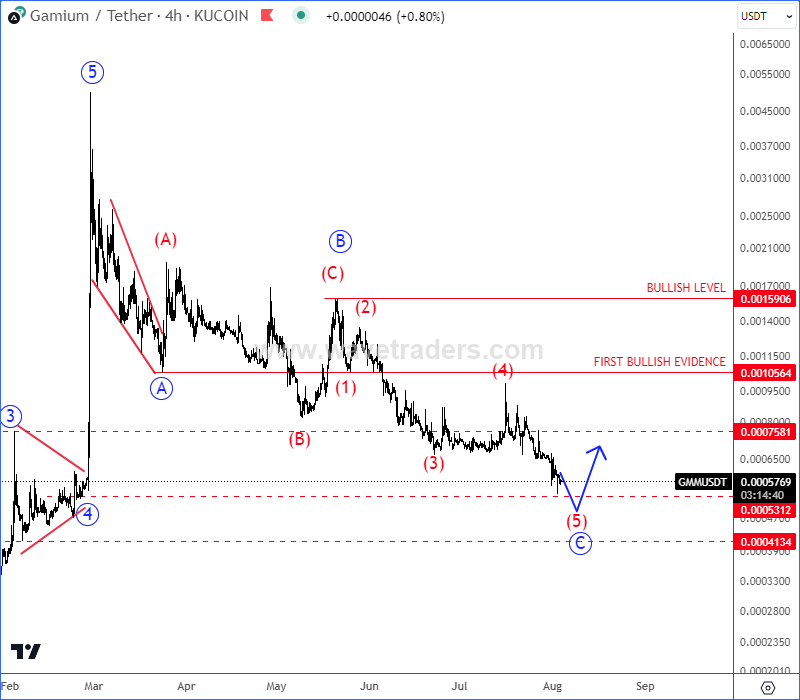 Become a member
Get daily Elliott Wave updates for some major Digital currencies, FIAT currency markets, major stock indexes, gold, silver, crude etc. or apply for unlimited access to the Elliot Wave educational videos.
USDJPY Turns Back To Bearish Mode From Resistance. Check our free chart HERE.