Over the past week, the value of USD has been declining due to bank liquidity issues, starting with Silicon Valley Bank and Signature Bank in the US, and followed by Credit Suisse. This is significant because Credit Suisse is a major global financial institution, and the Federal Reserve has had to step in to help other CB's liquidity issues with daily dollar swaps. The fact that the Fed is concerned about a potential global financial collapse is also worrying. Although the Fed claims that this isn't a new round of quantitative easing, bailing out and "printing" dollars will inevitably lead to a decrease in purchasing power and a drop in the value of the currency. As a result, it's not surprising to see USD trading down, even with weak stocks. Another reason for the lower USD is lower yields, as speculators believe that the Fed will stop hiking rates and may even become dovish.
Despite this, the EURUSD is currently rising and approaching the key resistance level of 1.08. This level was significant in mid-February, when the US CPI data caused a drop in the EURUSD value. There are important stops above this level that the market may try to clear out before the downtrend resumes. However, it's worth noting that the focus may soon shift to the ECB after the FOMC rate decision. There are speculations that the ECB is more likely to hike rates by 25 bps rather than 50 bps at its next meeting, or may not hike at all, which could cause speculators to turn bearish on the euro.
From a technical perspective, the current rally of the euro is similar to the one in December-January, in terms of both price and time. It's also rallying right into the 61.8% Fibonacci retracement level at 1.08, which was significant on Feb 14, 2023 when the US CPI data was released. This could also be the upper side of the right shoulder pattern. If the pair comes down from this level by the end of the week, it's possible that the bears on the euro are not done yet.
Trade well,
Grega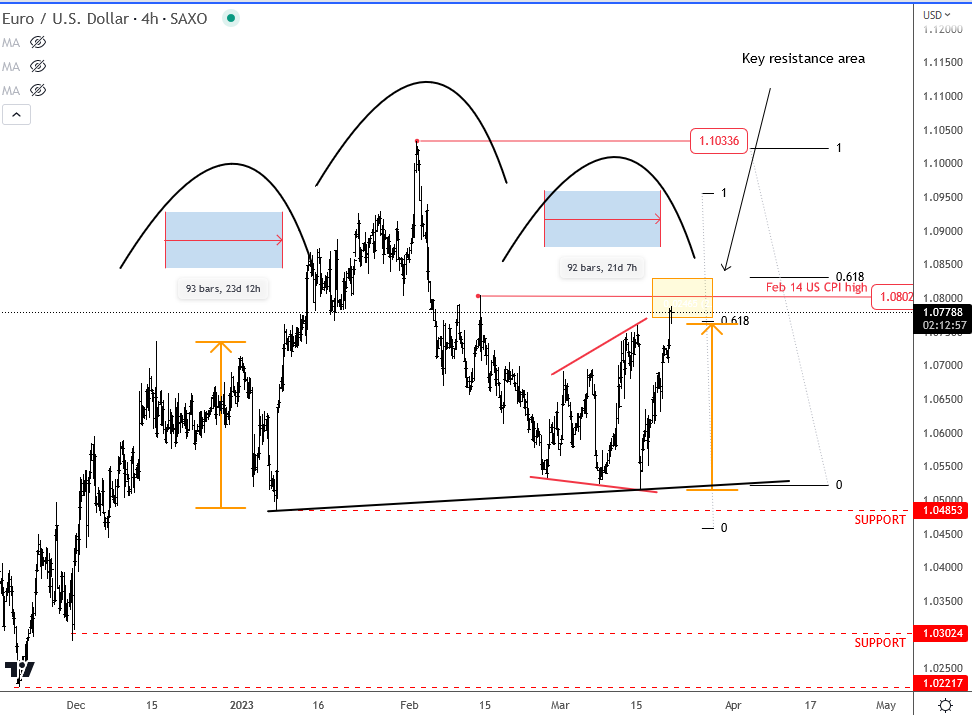 Become a member
Get daily Elliott Wave updates for some major Digital currencies, FIAT currency markets, major stock indexes, gold, silver, crude etc. or apply for unlimited access to the Elliot Wave educational videos.
DAX Is In A Corrective Phase. Check our chart HERE