EURGBP is bouncing from multiyear support and cyclically speaking, we may see a recovery at least back to the upper side of a range.
EURGBP hits multiyear support and it's trying to wake up away from the lower side of the range. Even if the price will stay sideways, it can rally back to the upper side of a range, especially if we consider monthly cycles.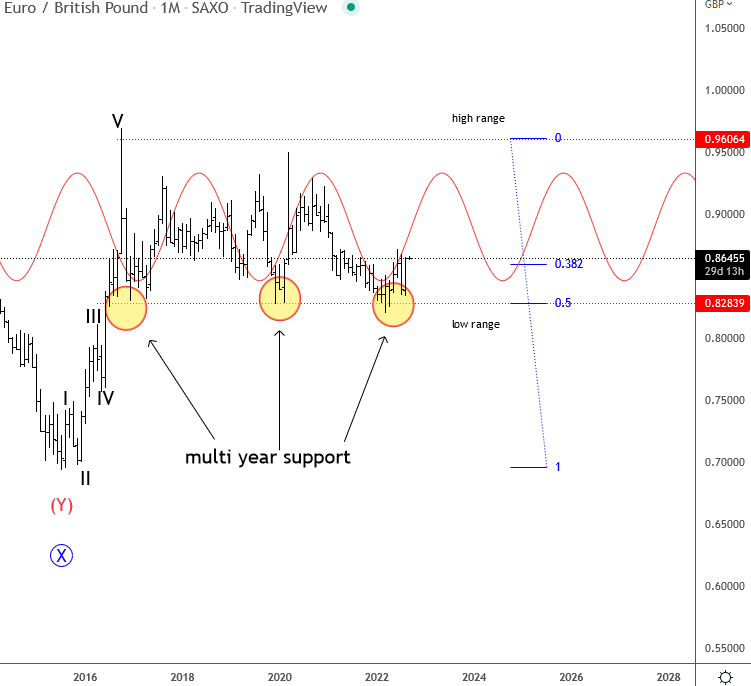 Looking at the daily chart, from Elliott wave perspective we can see a nice bullish setup formation with a leading diagonal into wave (A)/(1), followed by a three-wave correction in wave (B)/(2). So, respecting the wave structure seems like a wave (C) or (3) is now in progress, which can send the price to the upper side of a range, at least for wave (C) towards 0.88 – 0.90 area, if not even higher within wave (3). Keep in mind that either its (C) or (3), in both cases we need five sub waves up (black letters), thus it's room for more gains in the short-term.
All the best!
Check also our latest blog regarding US yields, USD and stocks. CLICK HERE