Ethereum can see more gains after next retracement to 1450-1500 support, where we see an unfilled gap, volume and previous wave four.
Ethereum is one of the strongest cryptocurrencies, which has found the bottom already back in June 2022. Since start of the year, it's in strong recovery mode again after it found key support at 1000 area. From Elliott wave perspective, we see it unfolding five-wave bullish impulse in the 4-hour chart, but we see it now trading at temporary resistance for wave 3, so be aware of a corrective slowdown in wave 4 soon.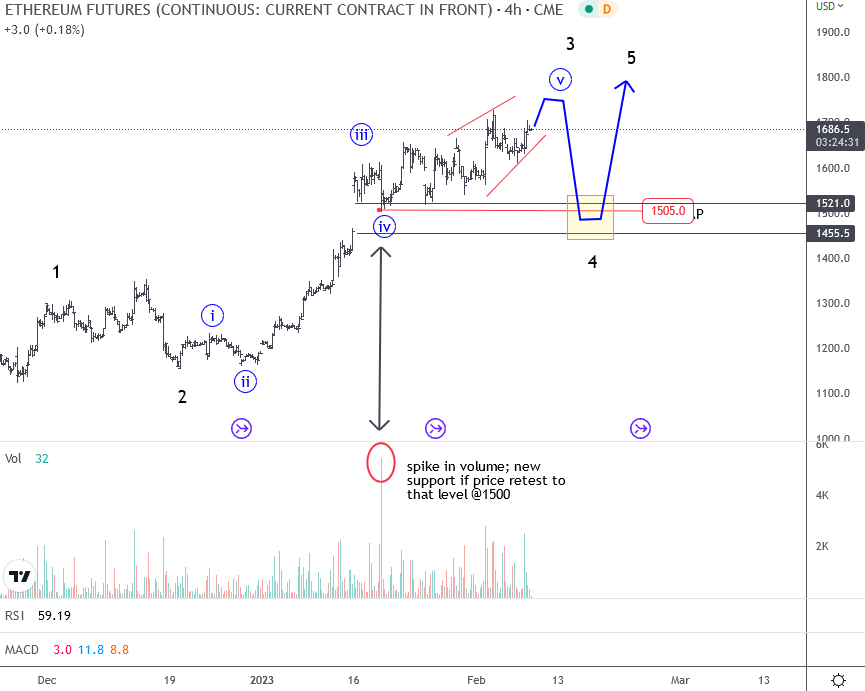 Technically speaking, we see it potentially finishing an ending diagonal (wedge) pattern within subwave »v« of 3 around 1700 area. So, Ethereum may face a sharp turn lower into wave 4 correction that can retest 1500 – 1450 support zone to fill the CME Futures GAP. Normally these gaps cause perfect reversals once they are filled; in our case, that can mean a new bounce into wave five.
We talked about Ethereum in our WEBINAR this Monday. You can watch the recording below:
Interested in FX? AUDUSD remains bearish despite hawkish RBA. Check our chart HERE