Hey folks,
In this article, I'll give you an update on USDMXN, which we've talked about before. You probably noticed that the Mexican Peso (MXN) has been quite strong for the past couple of years, mainly because of higher interest rates compared to other places, USDMXN short was a good carry trade.
However, things have started to shift a bit recently. Inflation in the US went up a bit due to rising energy costs, and some folks thought the Federal Reserve (FED) might keep a tough stance (hawkish) on monetary policy. This pushed the US Dollar higher along with yields.
But now, there's a new element in the mix – the geopolitical tension between Hamas and Israel. This situation can make the markets super jumpy and volatile. I'm not so sure if the FED can keep its hawkish stance in such a shaky environment. Keep in mind, during a conflict or war, a government might ease up on its tough policies to fund the war effort and get cheap financing.
So, I'm wondering if it might be the right time to expect USDMXN to continue its downward trend. In fact, the pair has dropped this week, especially after markets opened with some gaps in various assets.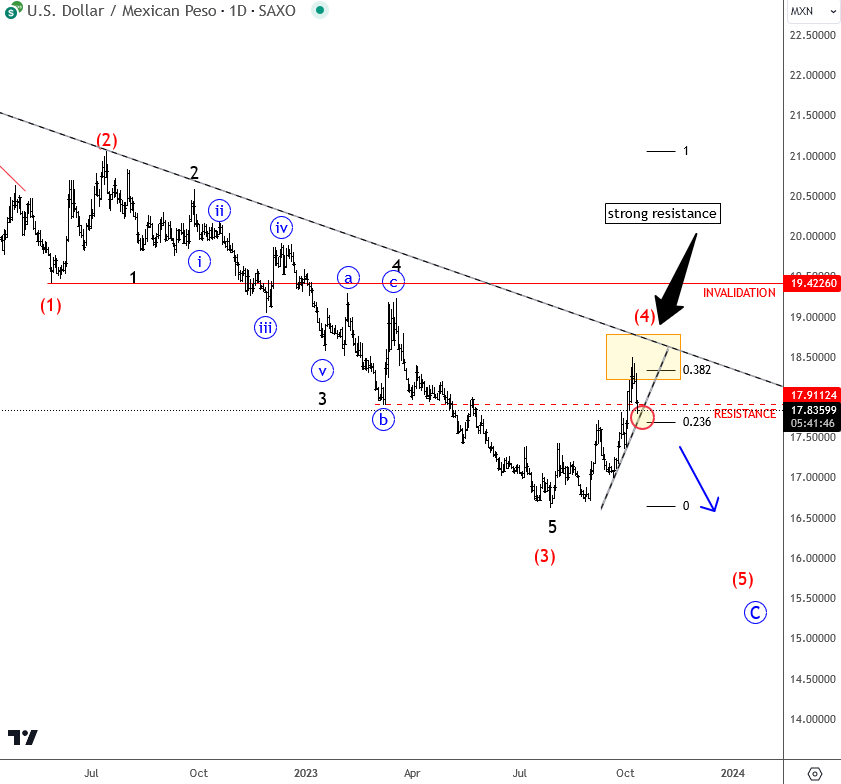 From an Elliott Wave point of view, we can see a decent corrective rise from recent lows, a clear fourth wave move up to the 38.2% Fibonacci resistance. We're seeing a turnaround from there, and if we break key rising trendline, more bears could join the party. This makes sense since the overall trend is still bearish as long as the price stays below the 2022 trendline resistance. So, I think a fifth wave down might be just around the corner, and it could happen quite quickly, especially if the US Dollar's trend changes, which is possible if stocks would stay in risk-on mode till end of the week.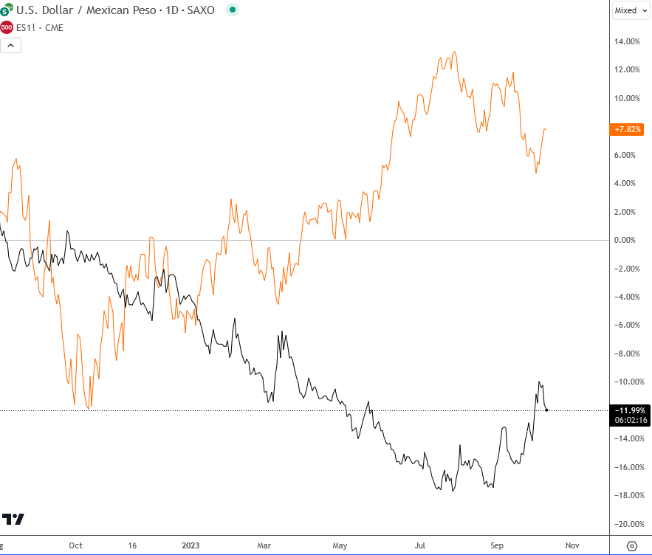 Become a member
Get daily Elliott Wave updates for some major Digital currencies, FIAT currency markets, major stock indexes, gold, silver, crude etc. or apply for unlimited access to the Elliot Wave educational videos.
GBTC Looks To Be Forming A Bullish Triangle. Check our free chart HERE.