Bitcoin made nice and clean impulsive five-wave recovery away from the lows, which from Elliott wave perspective indicates a strong uptrend. However, after every five waves, there comes a three-wave A-B-C corrective slow down before the uptrend resumes.
Well, looking at the latest developments, we see that Bitcoin dropped over the last few weeks as USD turns higher because of the FED who may look for more hikes. But notice that the current leg down from 31k can actually be temporary and part of a complex correction that has been underway since May of this year. Ideally that's an A-B-C corrective flat pattern, with final leg C now now in progress, or possibly even in late stages. In fact, we see very nice technical swing support at 24k-25k area where bulls can show up, especially if the USD index will stop at the 106/105 resistance.
Read more about USD and US Yeilds here.
Grega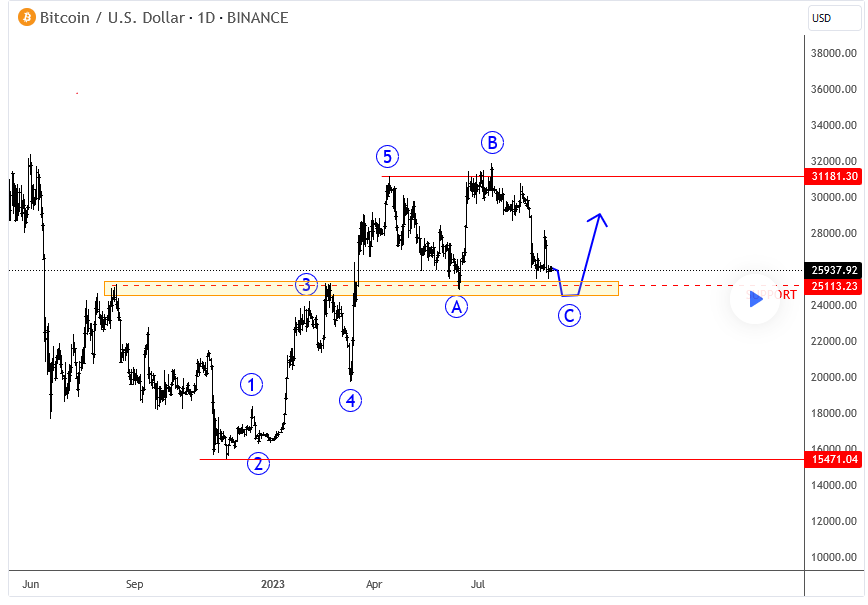 Become a member
Get daily Elliott Wave updates for some major Digital currencies, FIAT currency markets, major stock indexes, gold, silver, crude etc. or apply for unlimited access to the Elliot Wave educational videos.