Hello traders,
I hope you have a nice weekend away from the screens! I was out a lot with my kids, as we finally got some snow. It's so nice to be like a child again :).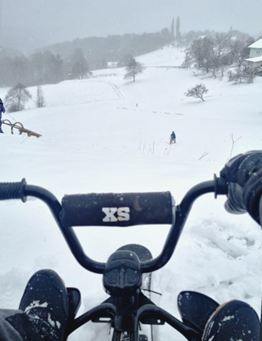 **LIVE WEBINAR**
Before we go to some of the market updates below, I would like to inform you that recently we had two free Elliott Wave Live webinars on tradingview. Somehow the streaming to YouTube did not work, but it should next time. So if you are interested you can watch me live on Monday, Jan 23 at 14GMT.
WEBINAR Monday, Jan 23 at 14GMT YOUTUBE LINK https://youtu.be/vVvBAtXZQ-w
WEBINAR Monday, Jan 23 at 14GMT TRADINGVIEW LINK https://www.tradingview.com/streams/ZFlvfKbLCE
STOCKS
We have seen some interesting price action last week, when US stocks turned south on Wednesday after worse-than-expected PPI and Retail sales reports from the US. Investors are worried about the recession, so stocks fell while DXY also did not rally much as yields were down at some point as well, as there is speculation that FED is approaching the end of the hiking cycle. I think that stocks can be headed lower, but only for correction before they stabilize. DJIA has a very beautiful price action.
FX
JPY has been under the spotlight last week as traders put some bets on BoJ to change its policy. However, they didn't provide what some of the speculators were anticipating, so JPY reversed some of it's gains. However, there is room for more weakness on USDJPY, possibly to 126 where the wedge pattern can cause the opposite reaction.
GBP was the mover of the week after good unemployment numbers were reported on Monday, while CPI figures came out near 10.5% a few days later. It was around expectations, but still above 10% so BoE should maybe do more with their hikes to slow down the rising prices. That's why we see Cable coming higher with a room with 1.2440 breakouts in view.
Aussie came down with stocks and after disappointing jobs data from Australia. There can be speculation that RBA wont be that hawkish with bad data, so be aware of weak AUD going forward, especially on some crosses GBPAUD, and even AUDNZD do not look well for the AUD at this stage.
Cad retail sales were released on Friday and came out above expectations at -0.1%. CAD came higher a bit as BoC can do another but possibly final rate hike next week, before completing the current tightening cycle. However, the currency lost some correlation lately with crude oil, so if BoC somehow disappoints, then CAD can turn sharply down. Strong resistance on Crude is at $82.
METALS
Metals are higher as yields came down a bit at the start of the week, but it was only gold pushing to new highs, while silver is moving sideways. The GOLD/SILVER ratio is on the rise and usually, that's not bullish for metals, so be aware of some setbacks, especially if the dollar finds support.
CRYPTO
Cryptos have turned nicely higher recently after FTX Group advisers reported that they have found more than $5 billion in cash or crypto assets that it may be able to sell to help repay creditors. Bitcoin is looking stable above 20k and can be headed much higher this week as we think that USD will see more weakness after rally.
Trade well, Grega
Important data next week:
EUR PMI Jan 24 08:30GMT
GBP PMI Jan 24 09:30GMT
NZD CPI Jan 24 21:45GMT
AUD CPI Jan 25 00:30GMT
CAD BoC rate decision Jan 25 15:00GMT
US Advance GDP Jan 26 13:30GMT
US Core PCE Jan 27 13:30GMT
Interested in some of the charts? Check our video recorded on Friday, where I looked into the DXY , BTC , NASDAQ100, Coinbase and even NZDUSD , which I think can be an interesting pair for long after a pullback. CLICK HERE
Tesla is approaching interesting support. Check our article HERE