The stock market is currently displaying a bullish trend, but investors should exercise caution and be prepared for potential pullbacks. Technical and Elliott wave analysis suggest that the market may encounter some resistance in the near future.
Stocks made some nice recovery for the last couple of monts, which can be signal that bottom is in place, but before we will see more upside, we need to be aware of corrective pullbacks.
Looking at the Dow Jones Futures chart with ticker DJIA, we can see a sharp and impulsive bounce away from the golden 61,8% Fibonacci support where the index completed a complex W-X-Y correction. Such an overlapping price move is probably the most important evidence for a contra-trend move, and when it's finished we can expect that the whole correction will be fully retraced. With that being said, we think that there is room for 35630 sometime this year.
What's interesting is that always when there was an increase and spike in volume in a down-trending market, the index experienced a reversal. This has been the case a few times and it also happened in the last swing low near 32000. In fact, the price made a nice recovery so far, above the channel resistance line, thus we can expect a bullish continuation, but ideally after some short-term corrective pullback first.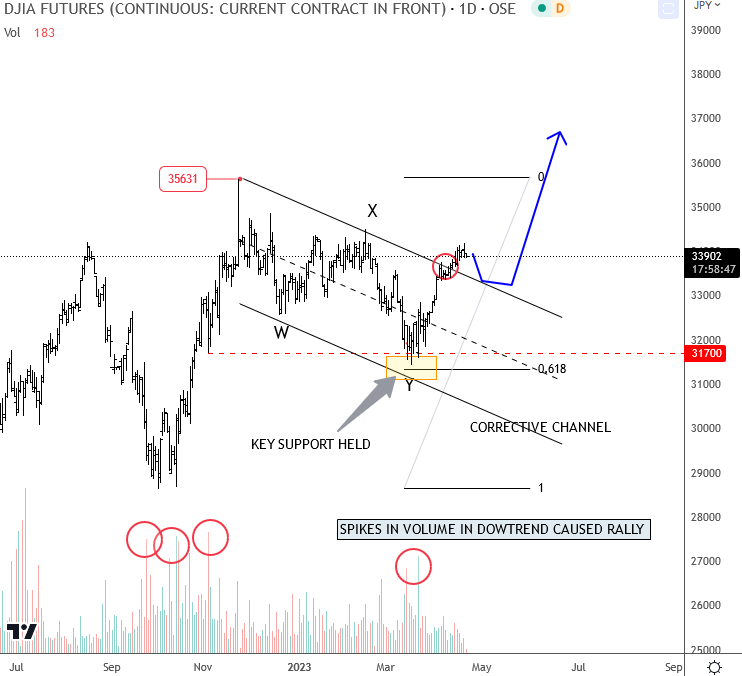 The reason for a short-term pullback can be the volatility index VIX, also know as "fear index" which is trading at the lower side of 2022-2023 range, meaning that market is trading at some extremes of optimism, which plenty of times is a reversal signal. We also see SP500 trading at technical resistance so some set-back here and a spike in fear certainly may not be a surprise.
Become a member
Get daily Elliott Wave updates for some major Digital currencies, FIAT currency markets, major stock indexes, gold, silver, crude etc. or apply for unlimited access to the Elliot Wave educational videos.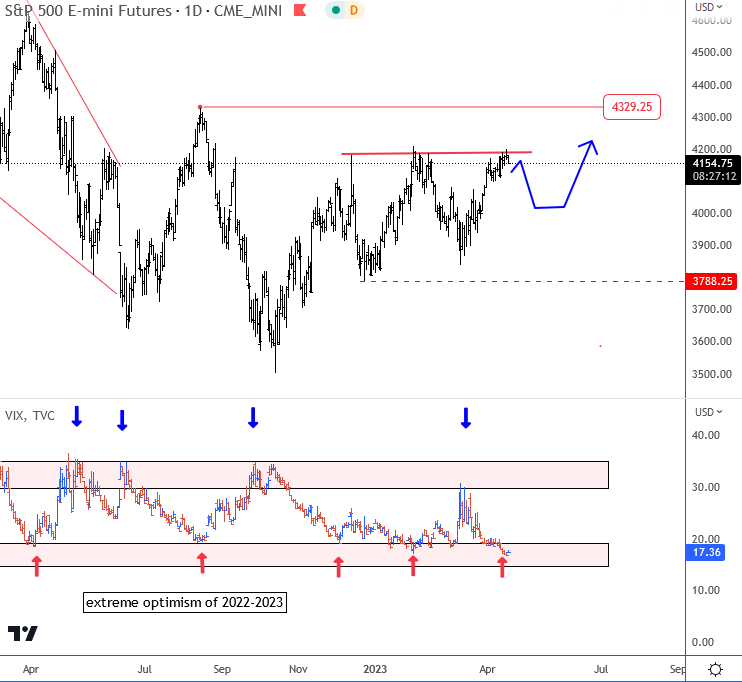 Another factor that we have to consider is the speculations on a new potential hike from the FED, plus the credit bank tightening conditions. An economic slow-down and expensive cash can certainly mean that there is less money available to be invested into the stock market, so clearly there can be some challening times for bulls on stocks. But when looking at technicals, the future seems clearer and brighter.
All that being said, seems like stocks are bullish, but be aware of temporary, short-term to mid-term pullbacks which may last until we get more clearer massage and decision from the FED. And when they are done with rates, that's when the uptrend may resume.