It was an interesting day yesterday, with FOMC causing some trend reversal in the last two hours of US sessions. We are seeing some recovery on stocks while the US dollar is selling off due to less hawkish than expected Powell comments. In the comentary below we will look at Elliott wave analysis and bearish impulse that we are tracking on the EUR/USD forex pair.
He said they have further hikes in view, but that data will be essential to track. So it appears they are not convinced regarding the 0.75% hike. While investors assume that data can be bad based on the latest economic reports. So this is a reason for the USD selling off while stocks found some support.
We have also seen a nice rise on the EUR/USD pair. But keep in mind that the main reasons for the EUR/USD bears are still here; ECB policy, the Russian-Ukraine conflict, and the Russian oil ban. Which can have terrible consequences for the European economy as energy prices may continue to rise.
Technically speaking EURUSD pair remains in a downtrend as the drop from 1.1186 is not in five waves yet of an Elliott wave bearish impulse pattern. Minor recovery is in three sub-waves, and it's moving into 38.2% Fib level so that it can be wave four as part of ongoing weakness.
We remain bearish as long as the market trades below 1.08. But a broken trendline can already be the first evidence of a change in trend. However, we will stick with bears that can reach 1.03/1.02 if 1.05 is broken.
Trade well!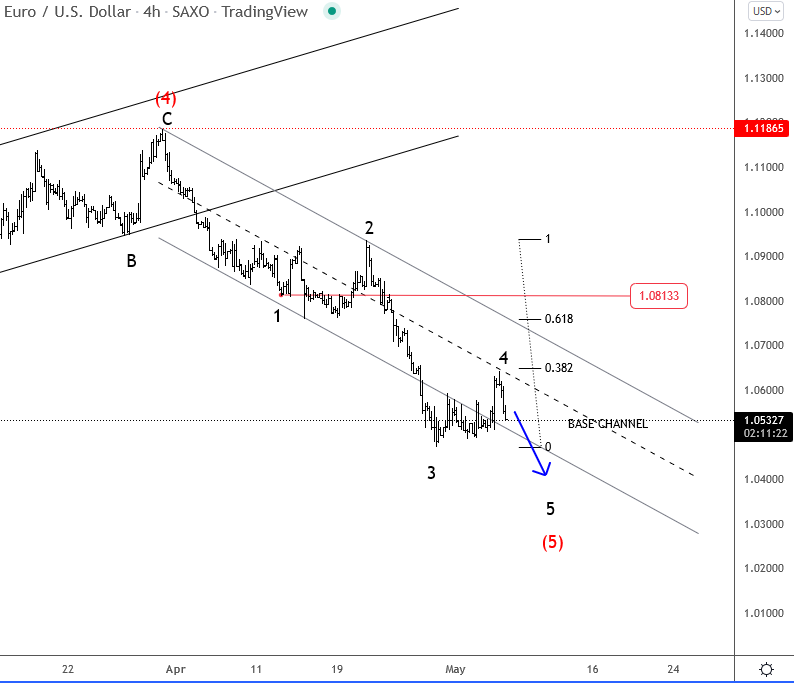 If you like our Elliott wave analysis then check what we have to say about other markets in this video, published on May 04 2022. CLICK HERE TO WATCH