Hello traders and investors, today we will talk about German (DAX) and Japanese (NIKKEI) stock indexes. We actually see pretty nice and clean bullish setup formation from Elliott wave perspective after we noticed flat corrections on both charts.
Two types of 3-3-5 flat corrections have been identified by differences in their overall shape. In a regular flat correction, wave B terminates about at the level of the beginning of wave A. And wave C terminates a slight bit past the end of wave A. Far more common, however, is the variety called an expanded flat, which contains a price extreme beyond that of the preceding impulse wave. In expanded flats, wave B of the 3-3-5 pattern terminates beyond the starting level of wave A, and wave C ends more substantially beyond the ending level of wave A.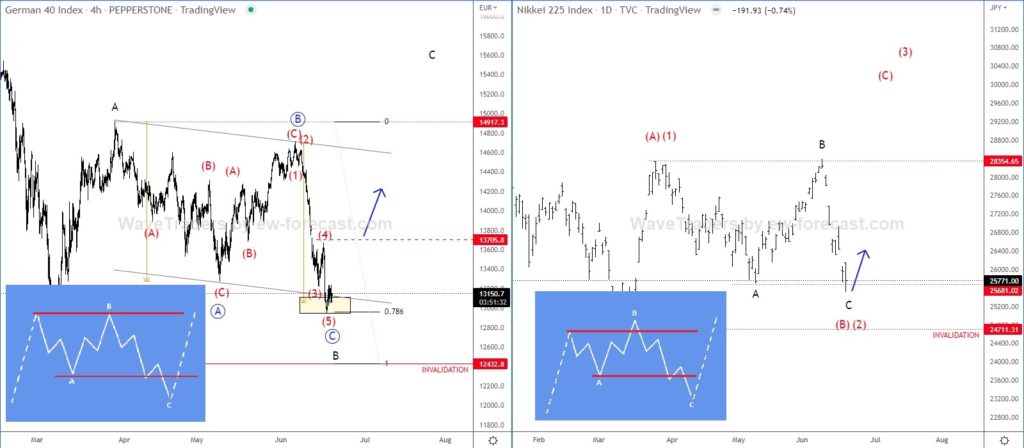 As you can see, both DAX40 and NIKKEI225 can be now finishing A-B-C flat corrections. The only difference is that DAX is in an regular 3-3-5 flat formation, while NIKKEI can be finishing an irregular/expanded flat pattern.
Well, despite recent sell-off, we still think that stocks can stabilize again. So, if we are on the right path, then risk-on sentiment can be around the corner. However, only if we see strong and impulsive rebound this week, only then we can confirm bulls back in play.
Happy trading!
Even cryptocurrencies are trading at support zone. Check our latest Crypto chart HERE