Crude oil is about to breakdown out of a bearish triangle pattern into lower support from Elliott wave perspective.
Crude Oil WTI is down 8% since last Monday, when Biden's administration said it is selling 26 million of barrels from their reserves. Its the opposite from last November when they noted that they are looking to fill their reserves between $67.72 area. In fact, market made a perfect stop at that area at the end of 2022 and rallied, into a sideways pricer action. This technical bounce has also been expected from an Elliott Wave perspective. So if we respect the wave pattern and Biden's administration and their policy regarding their oil reserves, then we may see a turn down on crude.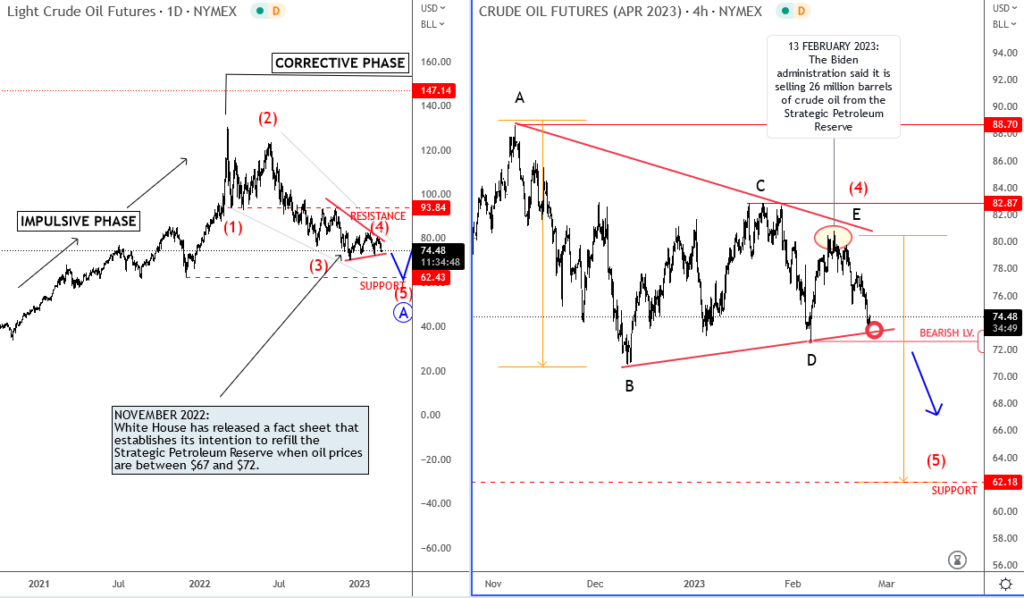 From an Elliott wave perspective this would not be a surprise as we see energy in a triangle, which can be nearing a breakout point with current drop to the lower side of a triangle range. Ideally, there will be a daily and weekly close below the line which can later makes room for a drop to $62-60 pivot area for this year. It's the support level that goes back from November 2021.
Become a member
Get daily Elliott Wave updates for some major Digital currencies, FIAT currency markets, major stock indexes, gold, silver, crude etc. or apply for unlimited access to the Elliot Wave educational videos.