A significant slowdown for the European Union is happening and the reasons are four. First, consumer spending is set to weaken. Economic sentiment has worsened, falling below the long-term average since July 2022, with consumer confidence in particular falling sharply to lower levels than during the COVID-19 pandemic.
In some smaller EU economies, including Estonia, Slovenia, the Netherlands and Portugal, consumer confidence has hit very low levels. In addition, EU labor market conditions are expected to weaken.
Second, high inflation, along with gas supply disruptions, is already affecting industrial production.
Third, the services sector is unlikely to perform as strongly in the short term as it did in the first half of 2022, as suggested by the EU services confidence index, which, while still positive, has started to fall.
And fourth, external demand is expected to weaken as monetary policy tightens.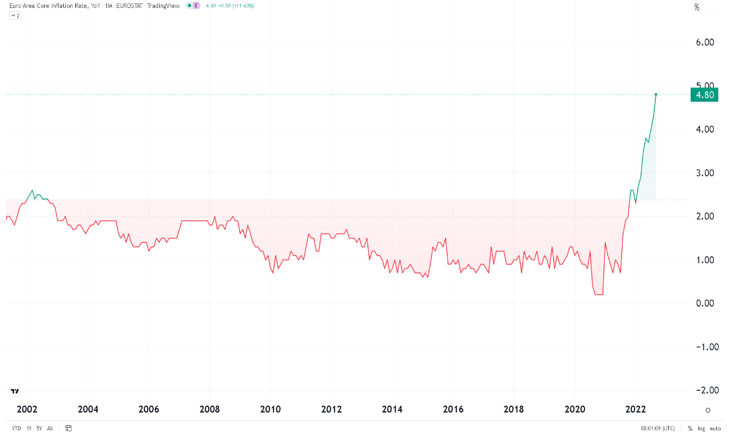 Despite the very difficult operating environment, firstly with the coronavirus pandemic and then with the inflationary pressures brought about by the war in Ukraine, European banks have not experienced a significant deterioration in asset quality so far, with non-performing loans remaining lower than pre-pandemic levels for most institutions. This is a worrying trend, as these loans could eventually become non-performing and require additional provisions.
Inflation has continued to rise at higher levels in recent months. Energy prices remain the main driver of appreciation, followed by food prices, with the latter affected by higher input costs, trade disruptions and adverse weather conditions. The devaluation of the euro also adds to price pressures. In September 2022, the Harmonized Index of Consumer Prices (HICP) increased by 10.0% year-on-year, up from 5.0% at the end of 2021.
The rate of inflation has accelerated particularly in some countries, including the Netherlands (17.1%), Germany (10.9%), Belgium (12.0%) and Austria (11.0%). The Baltic countries continue to record the highest inflation in the EU, while France has the lowest inflation rate. The price freeze on energy products in France proved effective in curbing inflation. Core inflation in the EU also rose further, reaching 6.1% MoM – 4.80% YoY – in September, well above the ECB's 2% inflation target.
By Stavros Chanidis